Sage Barista Express Bean to Cup Coffee Machine Review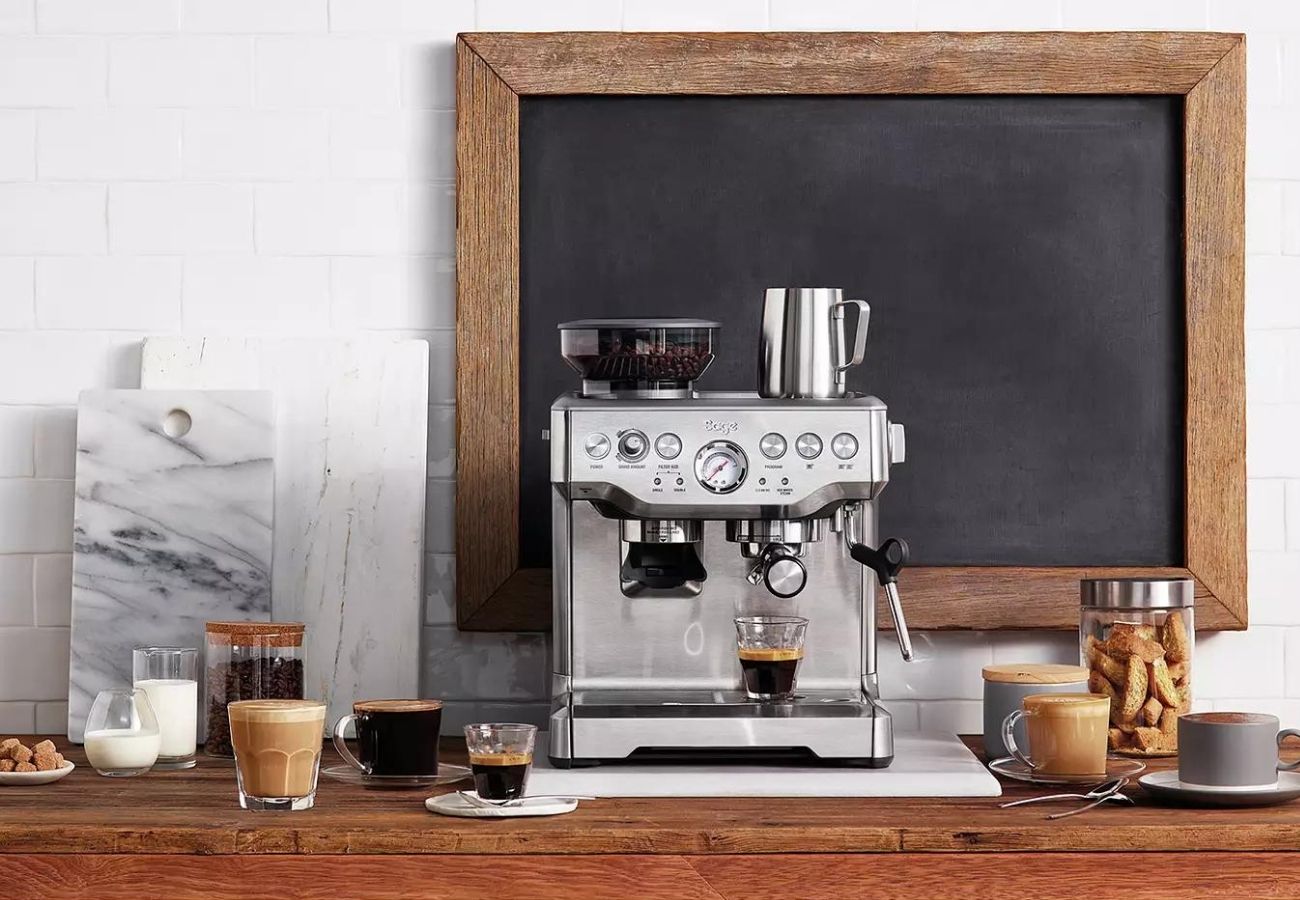 Sage The Barista Express Coffee Machine
The Sage BES875UK Barista is an express machine that works on a semi-automatic and integrated grinder system. In Sage Barista Express Bean You will get innovative features infused in the high-quality design, which gives you a nice cup of coffee. Moreover, it is a bean-to-cup coffee machine that offers delicious coffee every time you use it.
The implementation of a third wave specialty allows the machine to have control over the grinding and extraction. Therefore, you can indulge in a rich, flavourful, and balanced espresso cup.
Even so, does the Sage BES875UK have what it takes to be the best espresso machine ever created? You can read our detailed guide to delve deeper into the world of perfect coffee!
In terms of design, we think that this knocked out every other machine of the same calibre. It is compact, looks very sleek, and has a sophisticated feel.
When we first laid eyes on this machine, we instantly realized the effort put into designing it. The manual interface is easy to use and very convenient. Furthermore, the beautiful design will not disappoint in providing barista-style coffee.
You can choose the portafilter basket and the amount of coffee you want. The dose-control grinding setting lets you be responsible for the fineness of your coffee beans. Moreover, the mechanism insists that you collect the ground coffee, tamp it and place it back where the water dispersion happens.
Only then can you brew the coffee and use the steam wand to regulate the froth and heating temperature of the milk manually.
All of these features in the design make it a unique bean-to-cup coffee machine.
The power or wattage required to power this device is 1850 W along with a 240 Voltage. The overall item weight is 10.6 kgs (23.36 lbs.) with dimensions of 31 cm (W) x 40 cm (D) x 33 cm (H).
You get this in variable colours and can choose between its stainless-steel finish. Either way, it will not hamper the functionality. The overall aesthetic of this design is beautiful, and we believe that it will look stunning on your kitchen counter. Consequently, you will find the high-quality anatomy to be sturdy and strong when you feel it.
Upon closer inspection, you will understand the two halves in which it is split into – the essential grinding and the brewing. Furthermore, the left side has a dedicated grinding slot, whereas the opposite side brews your delicious espresso.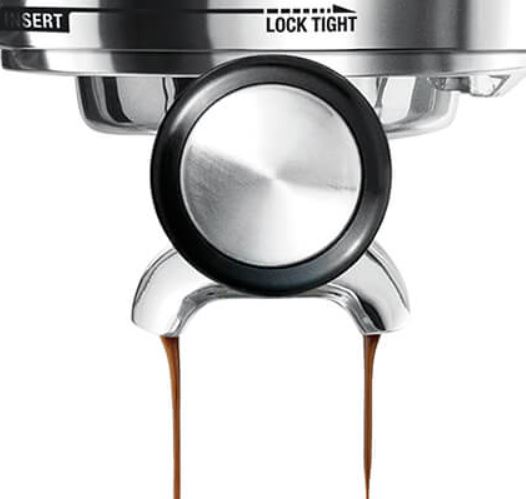 Quality Grind All flavours drawn out evenly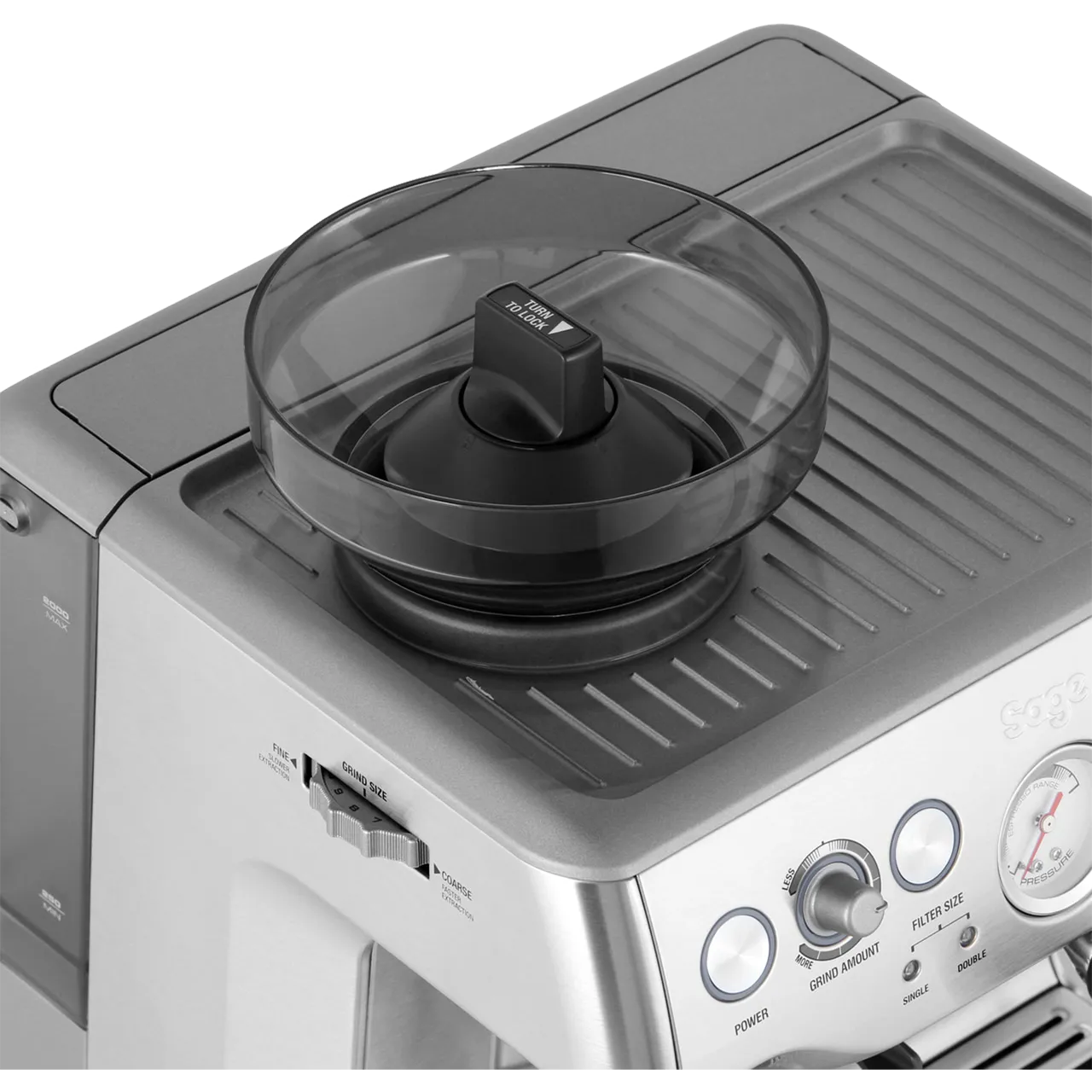 Easy Functionality Manual & Automatic controls
Milk frother gives your drinks a perfect creamy finish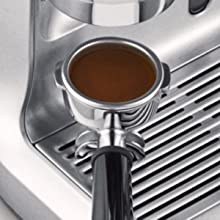 Coffee Flavour Get the best out of your beans
Features we love about Sage Barista Express Bean:
There are numerous features that we loved about the Sage Barista Express Espresso Machine. However, we did not quite like the minimized warranty period of 12 months from the purchase date.
Upon further analysis, we deduced that the design and appearance make up for it. If you take care of this device, it will not break apart. We were also impressed by the excellent performance of this machine.
Dose-Control Grinding Feature
Did you know that the grinding feature of any bean-to-cup machine determines its functionality?
We judge such devices based on the precision they offer. Moreover, we have to admit that the integrated conical burr present in the grinder is perfect. It grinds your coffee beans freshly and delivers the exact amount you want.
This freshly ground coffee makes its way to the portafilter. It gives you the freedom to make on-demand and versatile styles of coffee.
The Preciseness of the Espresso Extraction
Firstly, this device has a PID which keeps the water temperature optimal and precise. Secondly, it exerts a pressure of 9 bars that mix the water with the coffee in the portafilter. Lastly, the 15 bars of pressure deliver it to your cup.
The result? A rich-tasting espresso that is full of flavour.
The Milking Texture Sage Barista Express Bean
Who likes creamy and frothy milk with their coffees? If you do, you will love the steam wand on this espresso machine as much as we loved it.
It has an excellent performance that ensures you get textured micro-foam milk. The pressure exerted by the steam generates thousands of bubbles, which enhances the overall flavour.
The pressure generates high heat that helps in maintaining the milk's texture and sweetness. Therefore, every mouthful of coffee you take will have a harmonious blend of sweet, creamy milk with the richness of the espresso.
Versatility Offered by this Machine
The company Sage guarantees that you will have great espresso in less than a minute. However, we did find it to be a little longer than that, but the extraction process was smooth.
We loved the changeable filters and the option to make the operation manual or automatic. Due to this, we indulged in barista-style coffee that felt velvety to the palate.
This model comes with a temperature control jug that you can use to store your coffee in! (50 to 75 Celsius)
Versatility Offered by this Machine
If you want a perfect brew with a strong and balanced texture, you need a high-quality machine. The Sage BES875UK Barista Espresso Machine can grind the beans into a fine-tuned texture.
It is because of the burr grinder present in the device that ensures control and consistency in the process. Furthermore, we thought that the action this bean-to-cup coffee machine produced is better than most.
With one push and release mechanism, your coffee will grind itself and stop automatically. In addition, you can even keep holding the button, and the coffee will keep grinding until you release it.
We found this unique functionality simple and flexible. Moreover, we suggest that the best coffee produced by this device is at 93 degrees. We did find the domesticity of the coffee machine to be a little too professional at first.
Upon using it repeatedly, we managed to master the art of making double espresso in no time. All you have to do is tamp the coffee in the portafilter and let the machine do its trick. Furthermore, you can use the activated dial fixed on the side to deliver powerful steams for the milk.
The quality of your coffee will be determined by the type of beans you utilize. Even then, you will have rich-flavoured and balanced coffee from this machine. Why is that? It is because of the precise dosage this Sage Barista Express Espresso Machine utilizes.
Due to this, the water can fully absorb and express every aroma of the coffee. Therefore, you will have a distinctive café-like experience.
The water temperature controls this device offers makes the water have a consistent heating effect. Hence, you will have delicious coffee every time you use it. After using the foaming technique, your coffee will have an enhanced flavour due to the velvety milk it produces.
It has a dose-controlled grinding mechanism that offers the right amount of ground coffee you require. As mentioned earlier, it automatically lets the coffee fall into the portafilter to begin the dispersion process.
Infused with digital temperature control that offers consistency
The manufacturers at Sage knew that brewing a coffee requires a perfect water temperature. Therefore, the PID used in this machine ensures an optimal and regulated temperature that delivers authentic taste.
Manual milk texturing micro-foam wand
Who loves coffee with thick and velvety milk? Most of us do! Therefore, Sage created a frothing system that uses heat and bubbles to foam the milk and offer a perfect latte art experience. With this, anyone can enjoy sweet golden espressos.
Automatic and Manual Usages
As mentioned earlier, the versatility of this espresso machine ensures the perfect balance of the water-to-coffee ratio. The manual to automatic dial is intuitive and simple.
Offers Great Quality Coffee
With this device, you will have velvety, smooth, and high-flavoured coffee. It is due to its innovative functions and maximum performance.
The minimal cleaning this machine requires translates to its ease of use. However, there is a requirement to clean the sleek body regularly using your cloth. You will need to descale it only when the performance has been hindered, and maintenance is required.
Neither of these maintenance requirements is hard to achieve. To understand it better, you can refer to the instruction manual we asked you to keep aside. Furthermore, the steaming wand requires a gentle motion using a pin to get cleaned.
Frequently Asked Questions
Is the Sage BES875UK Barista Express Espresso Machine semi-automatic?
Yes! This espresso machine has a manual and an automatic function that you can utilize.
Does it produce good-quality coffee?
Of course! You will get barista-style coffee every time you use the device.
As you can see, Sage BES875UK Barista Express Espresso Machine will be a great choice for those looking for a fancy cup of coffee. This bean-to-cup machine has a semi-automatic feature with a design that complements your kitchen's aesthetic.
It has a powerful grinding mechanism that you can control. However, the water temperature remains consistent throughout its lifetime, making it hard to make versatile cups of coffee. There is a minimal requirement for cleaning and maintaining this device.
It might be expensive, but it offers great cups of coffee. So, this espresso machine can be an excellent choice for making barista-like coffee with fresh beans.