Russell Hobbs 20680 Buckingham Filter Coffee Machine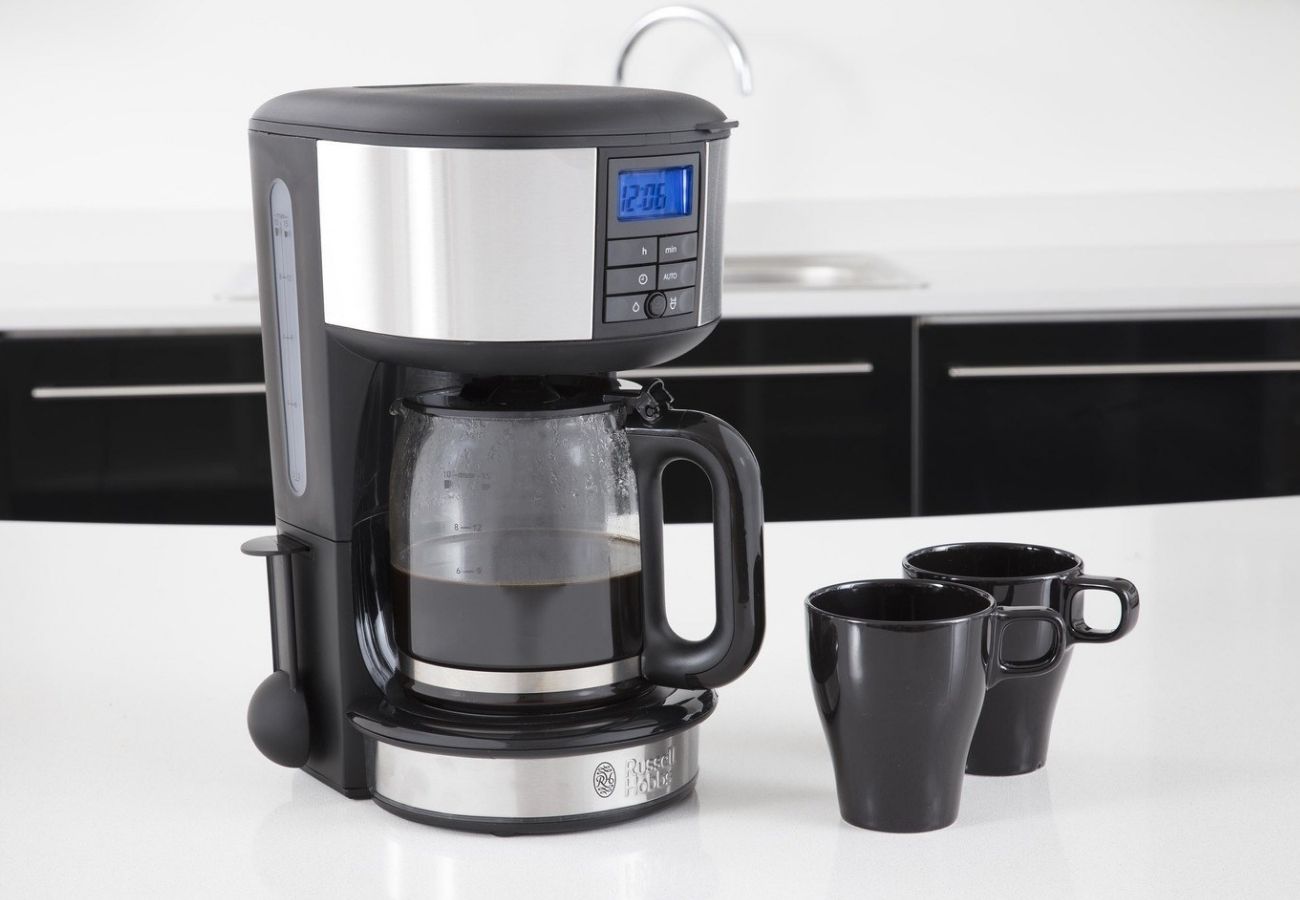 Buckingham Stainless Steel & Digital Filter Coffee Maker
Are you tired of making a trip to your local barista just to get caffeinated productivity pumping through your veins? All you need is the Russell Hobbs Buckingham Filter Coffee Machine on your counter.
The world has always known Russell Hobbs for meeting its consumers' expectations. In this model, too, the company puts together innovation and style fit for home and office spaces.
You no longer will find the need to buy expensive paper filters for a fine cup of coffee. It comes with a filter that lasts durably and permanently. You can always remove it for cleaning purposes too.
It can prepare up to ten cups of coffee in one go! Take a peek into all its other features to check if it is the right fit for you.
If you are a coffee lover the Buckingham Stainless Steel Coffee Maker makes rich flavourful coffee thanks to its advanced showerhead technology which assists in improved temperature & coffee extraction which allows the maximum amount of coffee to be dissolved. It can reach max temperature much faster than any other filter coffee machine on the market and holds 1.25 litre water capacity.
Designed to deliver rapid heating and coffee full of flavour , the Buckingham coffee maker is 50% faster in reaching optimum temperature, meaning less time waiting for that ideal cup of coffee
This modern coffee machine has a permanent filter which means who do not need to buy the traditional paper filters (however you can still use filter paper if needed)
This filter coffee machine is lighter than most models in the market. The company keeps it short and precise to its function.
Therefore, unboxing and setting it up in your household is not a very complicated task. The product is fairly robust, and you find all the instructions in its user manual.
The Russell Hobbs Buckingham Filter Coffee Machine is easy to use and clean as well. All it takes is a matter of time for you to familiarise yourself with the settings.
The Russell Hobbs Buckingham Filter Coffee Machine is one of the smartest-looking models. It has a classic black body of plastic to fit in any setting.
It also has extra embellishments of stainless steel in its top and bottom sections. This addition securely protects where the carafe lies. You will find a bunch of controls around the front and centre of the body. These allow you to adjust the strength of the brew, timer, and such.
It also has transparent plastic plates on both sides of its body. This feature allows you to get a sense of the water level in the tank.
The Russell Hobbs 20680 Filter Coffee Machine has a 1.25-litre glass carafe. Be careful because it needs a little fiddling if you want to pull out the hot plate. That occurs because the filter tip is led with springs to eliminate the risk of any leakage.
The coffee machine has a blue light ring which illuminates when brewing and when the coffee is kept warm.
Depending on how much coffee you drink a day, the 1.25 litre capacity allows you to make up to 10 cups of coffee.
Maintaning and cleaning the coffee machine couldn't be easier as the BUckingham coffee machine has auto-clean features
The model also comes with a coffee scoop. Its base has the scope to slide into the place by the left-hand side of the chassis. This way, you never have to worry about you losing it.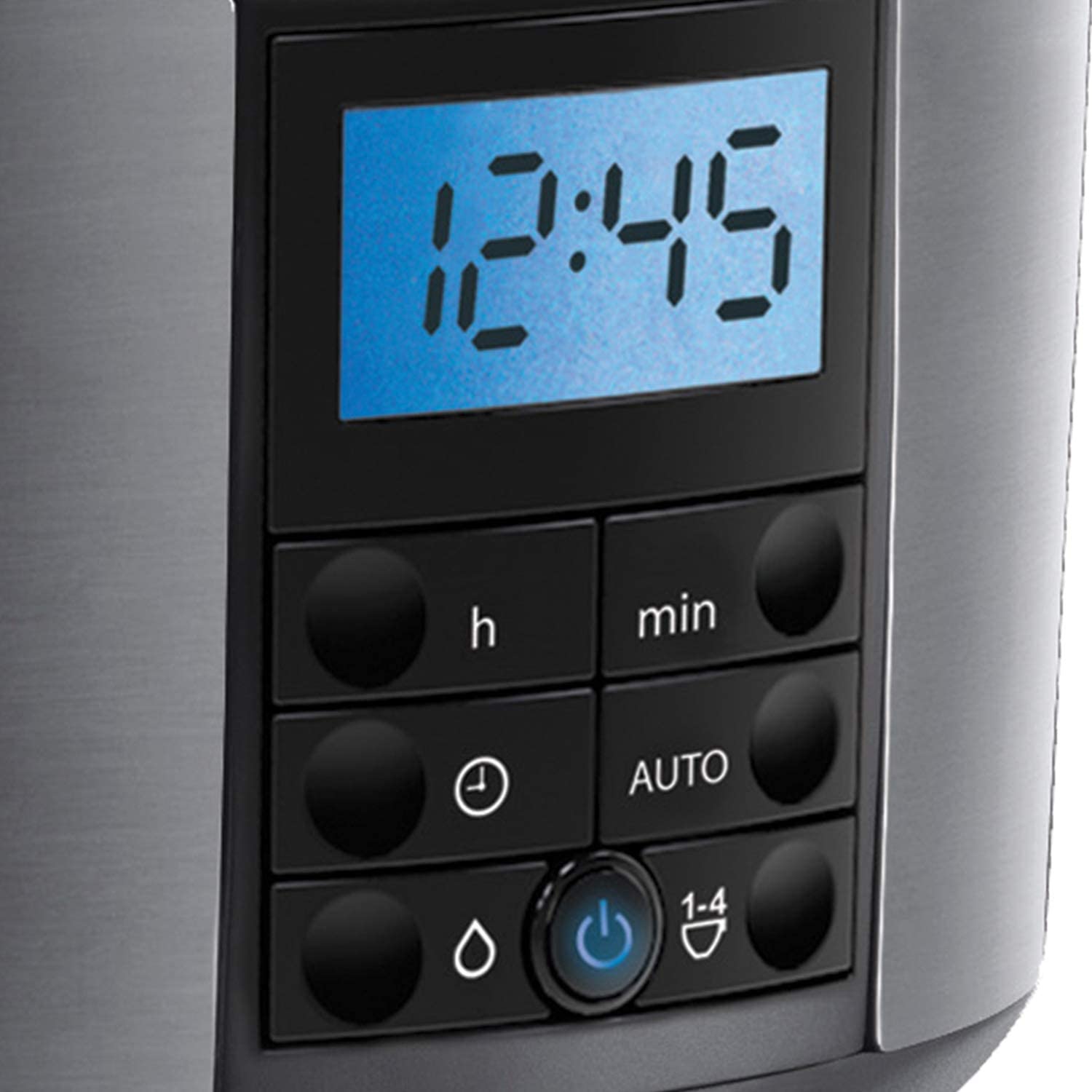 Digital display & easy controls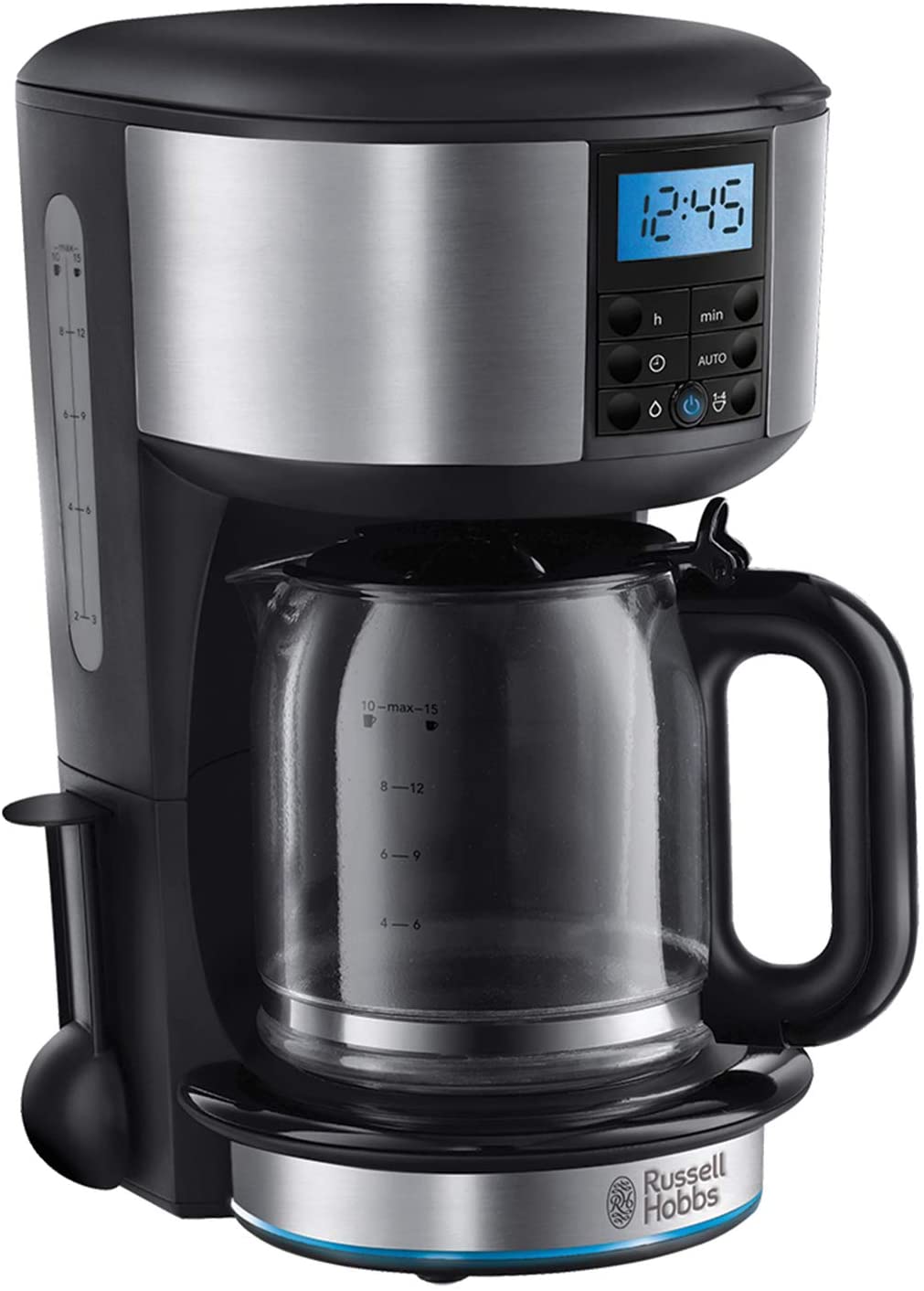 Stainless Steel Coffee Maker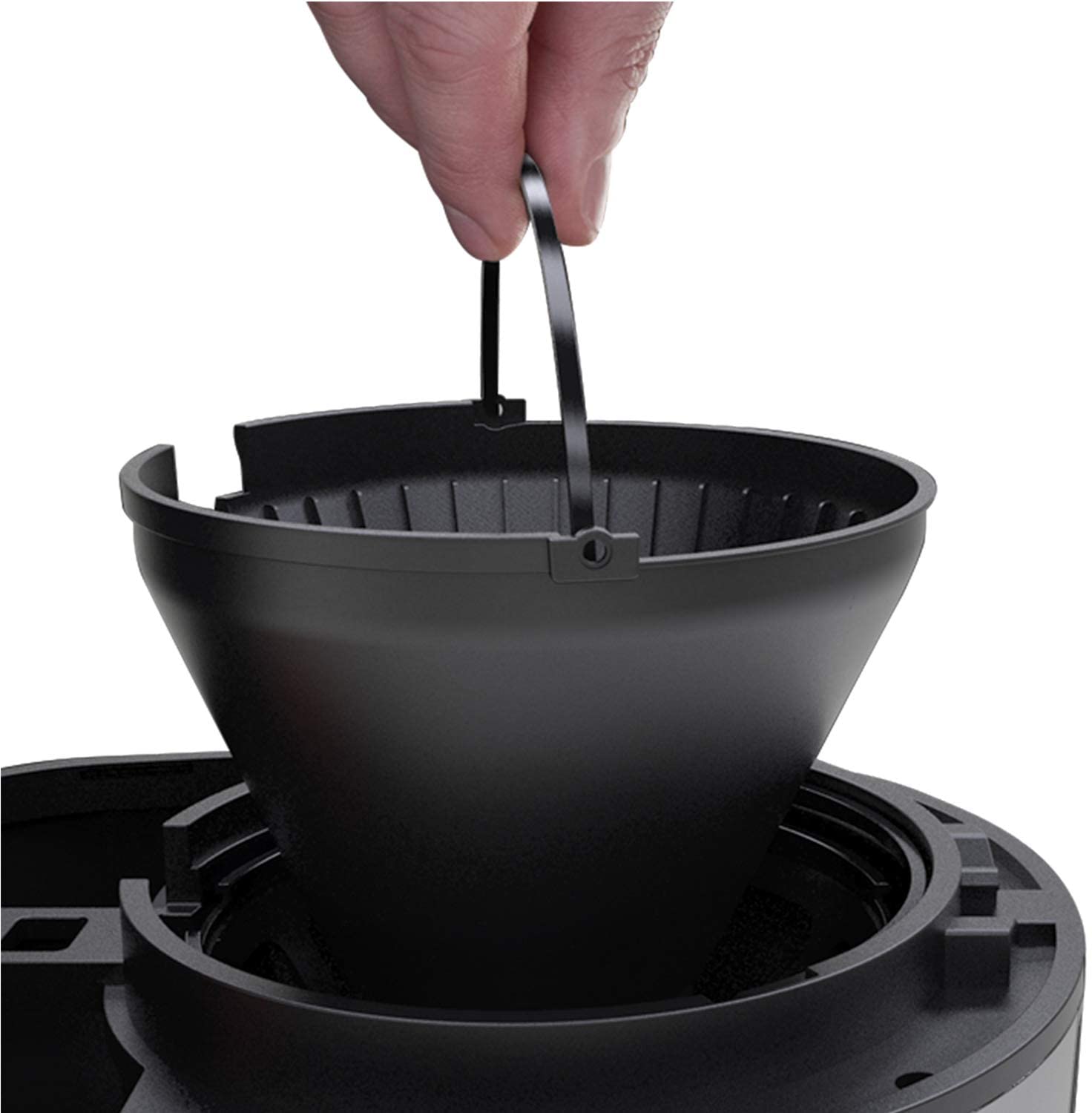 Permanent Coffee Filter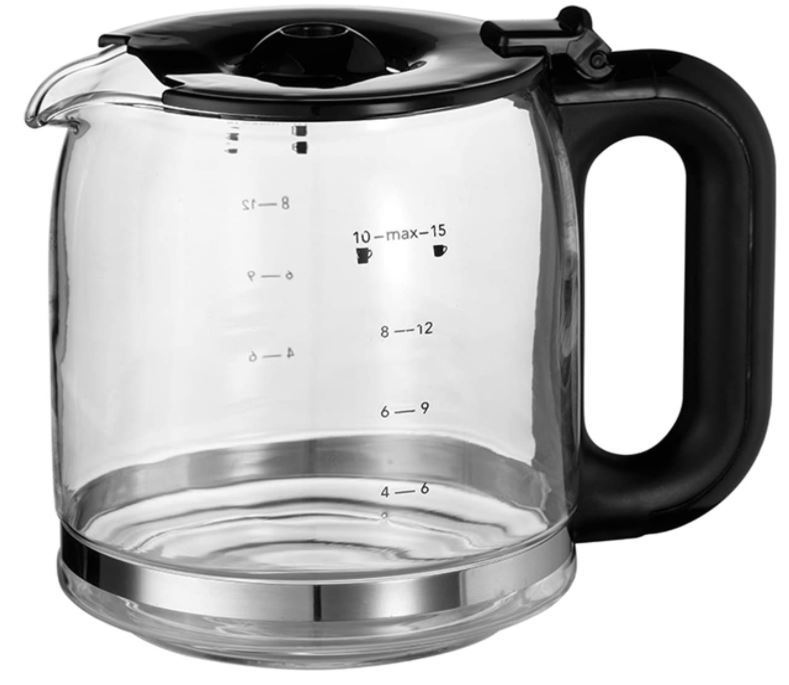 1.2 Litre Capacity
The Russell Hobbs Buckingham Filter Coffee Machine is an extraordinary model to make your life easy.
Advanced Shower-Head Technology
There is a reason why paper filters manage to extract the right amount of flavour from coffee grains. However, they are also very expensive and impractical to invest in over a long period.
Luckily for you, the Russell Hobbs 20680 Coffee Machine finds a solution. It comes with an advanced showerhead technology that draws out all the richness from the coffee grains.
It is replaceable, removable, and easily washable.
Considerate Water Tank Capacity
Are you someone who constantly needs filter coffee in their cup but is tired of making the reruns? You would be delighted to hear that the Russell Hobbs 20680 Coffee Machine has a considerate water tank capacity.
It stores up to 1.2 litres of water despite its small body. The product promises you up to 10 cups of filtered coffee before you need to refill the water.
However, the machine takes the average cup size while making this promise. So, if you are someone who only thrives on big cups of coffee, you can expect about five rounds before refilling.
Most of the filter coffee machine models come with outrageous pricing. However, since you are just going for settings with filter coffee, the ideal model must meet the criteria of affordability, right?
Besides, the whole point of buying a filter coffee machine is to save up by not spending as much on expensive filter papers.
The Russell Hobbs Buckingham Filter Coffee Machine precisely takes into account this point. The model is very practical to invest in for the quality of filter coffee it offers and affordably so!
24 Hour Programmable Timer
Unlike most other models, the 24-hour programable timer sets the Russell Hobbs Buckingham Filter Coffee Machine apart.
It offers durable setting management. Not only does this save you a lot of time, but also effort. All you need to do is register and set the timer for the day.
The machine regularly and obediently delivers results as per the settings without making a run for it.
Not a lot of us get around to cleaning our coffee machines as much as it is necessary. It could be due to time constraints, lack of awareness, or just plain laziness. However, leaving your machine unclean can raise a lot of health issues.
The Russell Hobbs 20680 Filter Coffee Machine comes with a self-cleanse feature. It is responsible for ensuring that the deal from your end does not lead to such health problems.
At times, the coffee could even taste faulty and bad. So, to avoid such unpleasant experiences, Russell Hobbs equips this model well.
Small Footprint and Light in Weight
Another one of its advantageous features is that this model does not take up a lot of space on your counter. It is a simple box-like coffee machine that could fit in with the setting – regardless of whether it is your kitchen or the office pantry.
Not only does it have a small footprint, but it is also light in weight. This combination of features makes it possible for you to move it with you if the need be. So, portability is also a beneficial side of this model.
The Russell Hobbs Buckingham Filter Coffee Machine will make you wonder why you ran trips to your local barista.
Or was it expensive sheets and papers that you spent on for a cup of filter coffee? Well, the case remains because this model makes your life convenient.
The advanced showerhead technology grinds and extracts all the richness from the coffee beans and grains. So, it leaves you with a tasteful cup of filter coffee to make you more productive throughout the day.
That said, let us evaluate the pros of this coffee machine against its cons to find out which is the stronger side.
Barista-Quality Filter Coffee
As you read earlier, there is no competition to the machine's advanced showerhead technology. Without it, you would have to resort to the expensive filter papers that you need to replace all the time.
However, with the Russell Hobbs Buckingham Filter Coffee Machine, you can save up the many trips to your favourite barista. Simply enjoy the rich filter coffee from the comfort of your own home or workspace.
Be it an adventurous trip or a weekend barbecue, no party complains of coffee! Luckily the small size and lightweight of the Russell Hobbs 20680 Filter Coffee Machine make things convenient for you.
Nobody thought of carrying their coffee machines along with them before. However, you will not have to pass on the option with this petite model!
Reusable and Permanent Filter
One of the most advantageous features of this filter coffee machine is its reusable filter.
Unlike filter papers, you do not have to throw its inbuilt filter after every use. That should make things a lot more affordable and practical for you.
And do not be worried about the taste, for you will not be compromising on the richness of your filter coffee.
Automated Programmable Timer (24 hours)
This feature sets the Russell Hobbs 20680 Filter Coffee Machine apart from its competitors. Although the machine is tiny, it can register a 24-hour program within its automated timer.
Once you feed the information and your preferences in, you do not have to worry about the settings for the rest of the day. The machine is particular about its delivery, and that will show in the results!
Generous Water Tank Capacity
Although the Russell Hobbs 20680 Filter Coffee Machine seems small, it has a considerable water tank capacity of 1.2 litres.
The model promises to serve up to 10 cups of filtered coffee. Meaning, you do not have to keep refilling its water tank after every cup. Moreover, the transparent windows along the sides of the tank allow you to check the water level.
If you are one for big cups rather than average ones, you might have to refill the tank after five servings. However, that is still better than redoing the adjustments after every cup!
Now, let us take a peek into the downsides of the Russell Hobbs Buckingham Filter Coffee Machine. Soon, you should be able to tell if this is the model fit for you.
Unfortunately, the Russell Hobbs 20680 Filter Coffee Machine has a 40-minute limit on its hot plate.
So, you would have to check on it, especially if you have not given commands beforehand. However, you would not have to worry about it if you have registered for a 24-hour program on the timer.
Another drawback to this model is its cup size and markings. It could get fairly confusing to identify what cup is compatible to the setting in the model.
You could consider a regular or small cup as the average size cup for the machine. As a result, you would be able to refill up to ten of these cups. However, if you go for bigger ones, five refills would be the maximum limit.
The Russell Hobbs Buckingham Filter Coffee Machine comes with a plastic shower arm. Meaning, it could last for a lesser time than if it were of a metal body. Stainless steel would also serve as an effective alternative.
However, if you handle the equipment with care, there is no reason for the shower arm to spoil.
If you are a stickler for the cleanliness and maintenance of your coffee machine, your life is about to get simpler. And more so if you are lazy about it instead!
The Russell Hobbs 20680 Filter Coffee Machine comes with advanced technology that self-cleanses. It keeps your coffee from tasting foul and the insides of the machine from turning bad.
This way, you do not have to worry about making extra effort to clean it up. However, if you can double-check, you could always remove the filter and clean it yourself.
Frequently Asked Questions
#1. How many cup settings does Russell Hobbs offer?
This model offers four cup settings if you do not need to use all of the 1.2 litres. Marked from one to four, it slows down the process of brewing depending on the cup number.
#2. Do I need to replace the filter?
No, you can use the filter of the Russell Hobbs Buckingham Filter Coffee Machine as a permanent one. Its self-cleanse technology eliminates the chances of faulty taste, but you can always clean it manually too.
The Russell Hobbs 20680 Buckingham Filter Coffee Machine is certainly one of the most exciting models in the market today. It is small and lightweight and fit for any setting – be it your kitchen or the office pantry.
Investing in such a model could never be a bad decision because it will always pack your cup with flavour. And all at an extremely affordable price!