Krups Arabica Digital EA817040 Bean To Cup Coffee Machine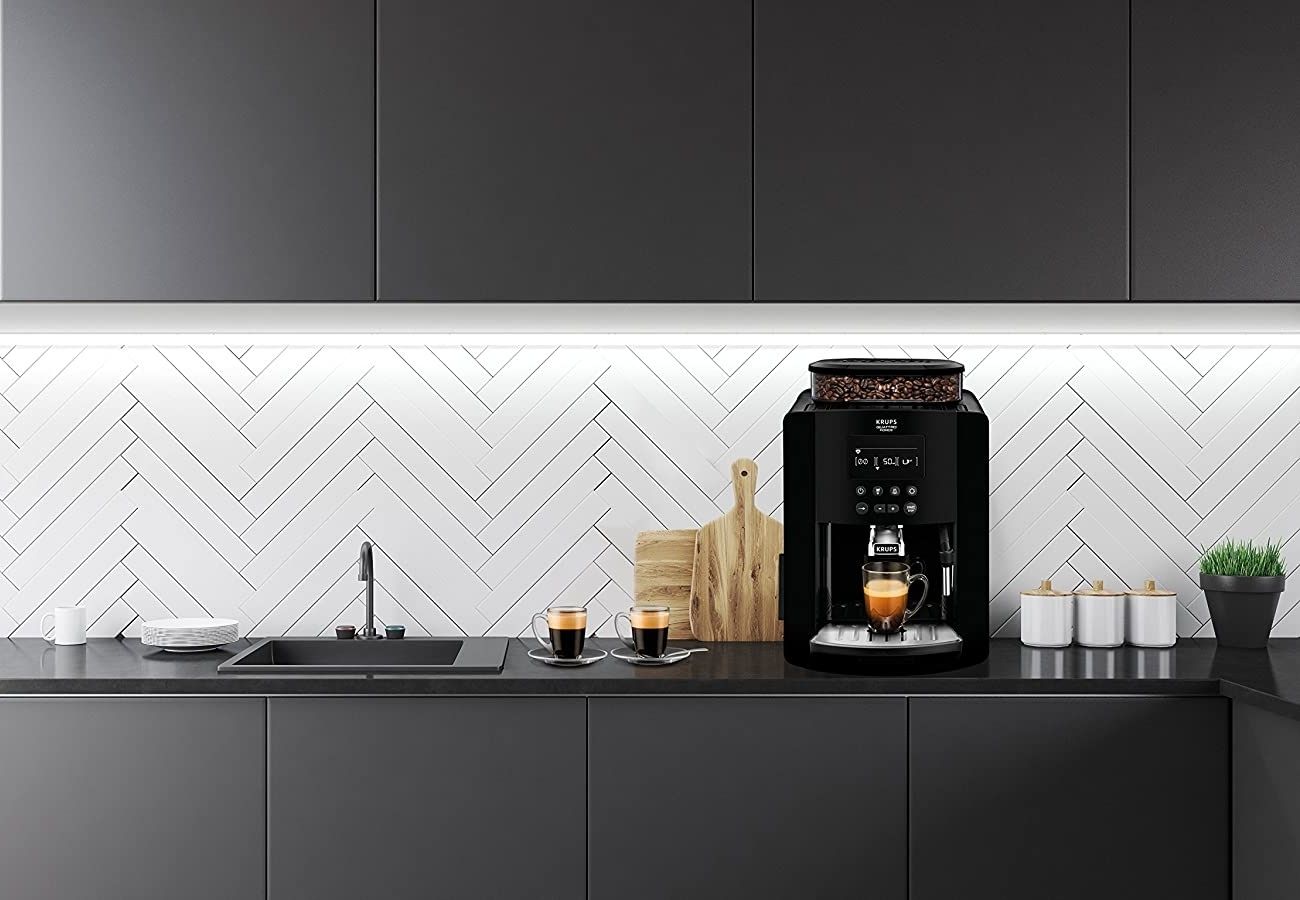 Krups Arabica Digital EA817040 Coffee Machine Review
Have you been wanting to cut yourself off from Starbucks but cannot function without coffee running through your veins? Well, Krups EA817040 Arabica Digital is one of the most popular bean-to-cup coffee machines that could help out.
This coffee machine makes quality espresso just as well as long coffee and cappuccino. It has a unique heating system that lets your water at a temperature ideal for you.
Moreover, it comes with a memory function that registers a list of all your favourite drinks.
There is a lot more to this coffee machine than just that. So, scroll further to learn all about it in this review.
The Krups EA817040 Arabica Digital coffee machine is a very user-friendly bean-to-cup coffee maker with a plethora of features and settings. This bean-to-cup machine comes with a detailed manual. You might need a little time to get used to the settings, but there is nothing like it once you do.
This Krups bean to cup machine, produces barista-quality espresso, long coffee and cappuccino made easy in just a few seconds
It is only a matter of time before you get used to the process. And even if you do not, the coffee machine comes with a memory to record your favourite drinks. So, all you need to do is command it!
The Krups EA817040 Arabica Digital coffee machine is not much for intricate design. In fact, it is a simple box-like machine to its basics.
But that is hardly a point to be disheartened about. After all, this design is precisely what makes it a great fit for most office and home kitchens. It facilitates space optimisation in the best capacity. Speaking of which, its dimensions stand at 38.5 (W) x 48 (L) x 28 cm (H).
The machine has an overhead compartment for you to store the coffee beans as well. What follows on the front face is a simple control panel with a range of settings.
The elegant design features branded metal inserts and conceals all screws to give it a sleek and stylish look. Although it does not have a very intricate design, the machine still brings a touch of sophistication into your pantry or kitchen counter.
The black body mostly has a matt finish, in case you are one for non-glossy looks.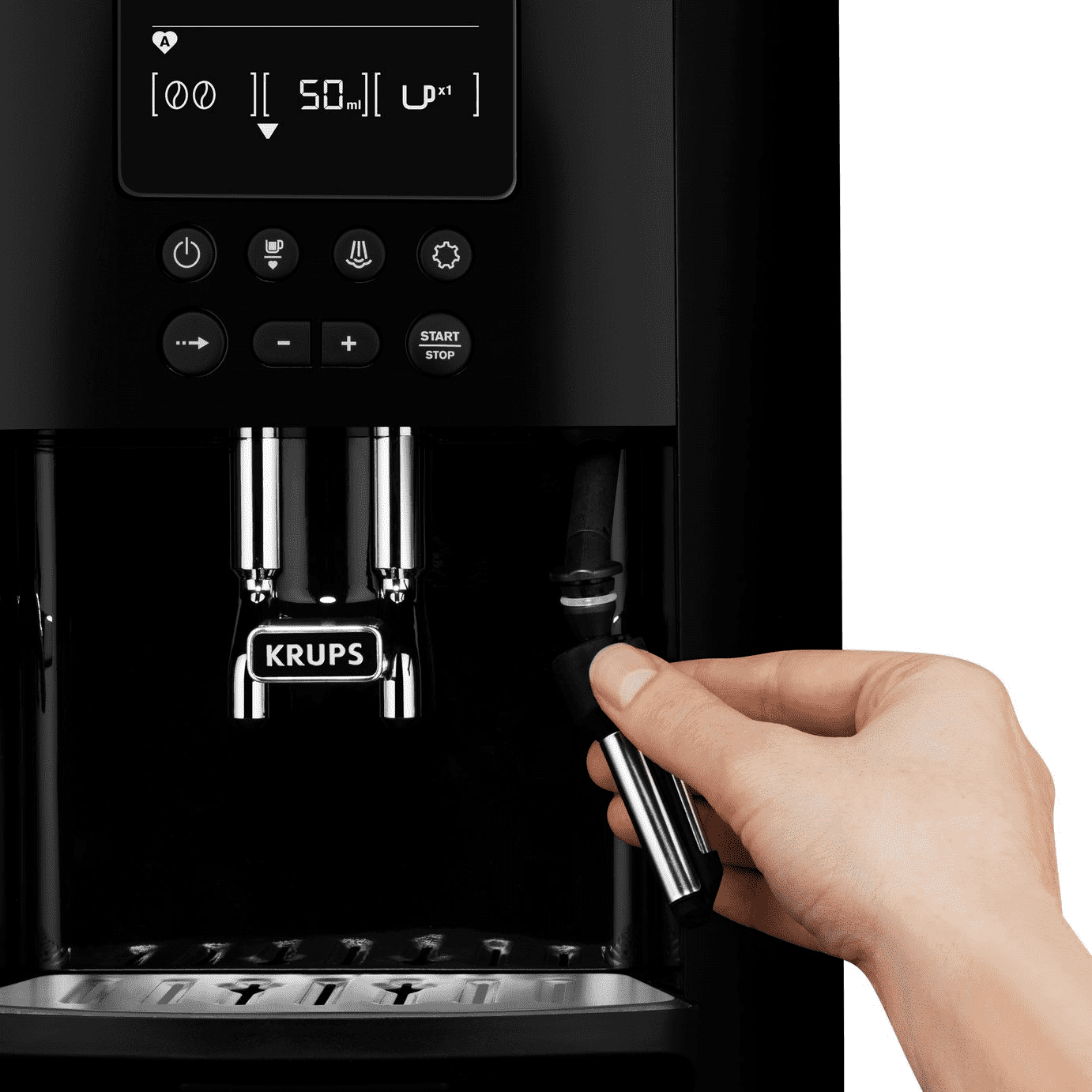 Manual Steam Nozzle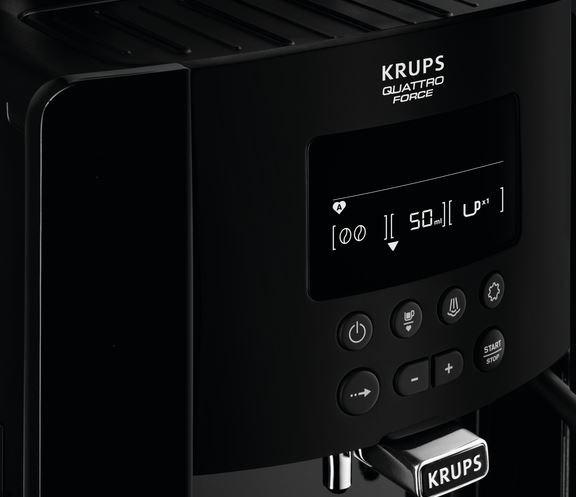 Quattro technology = more flavour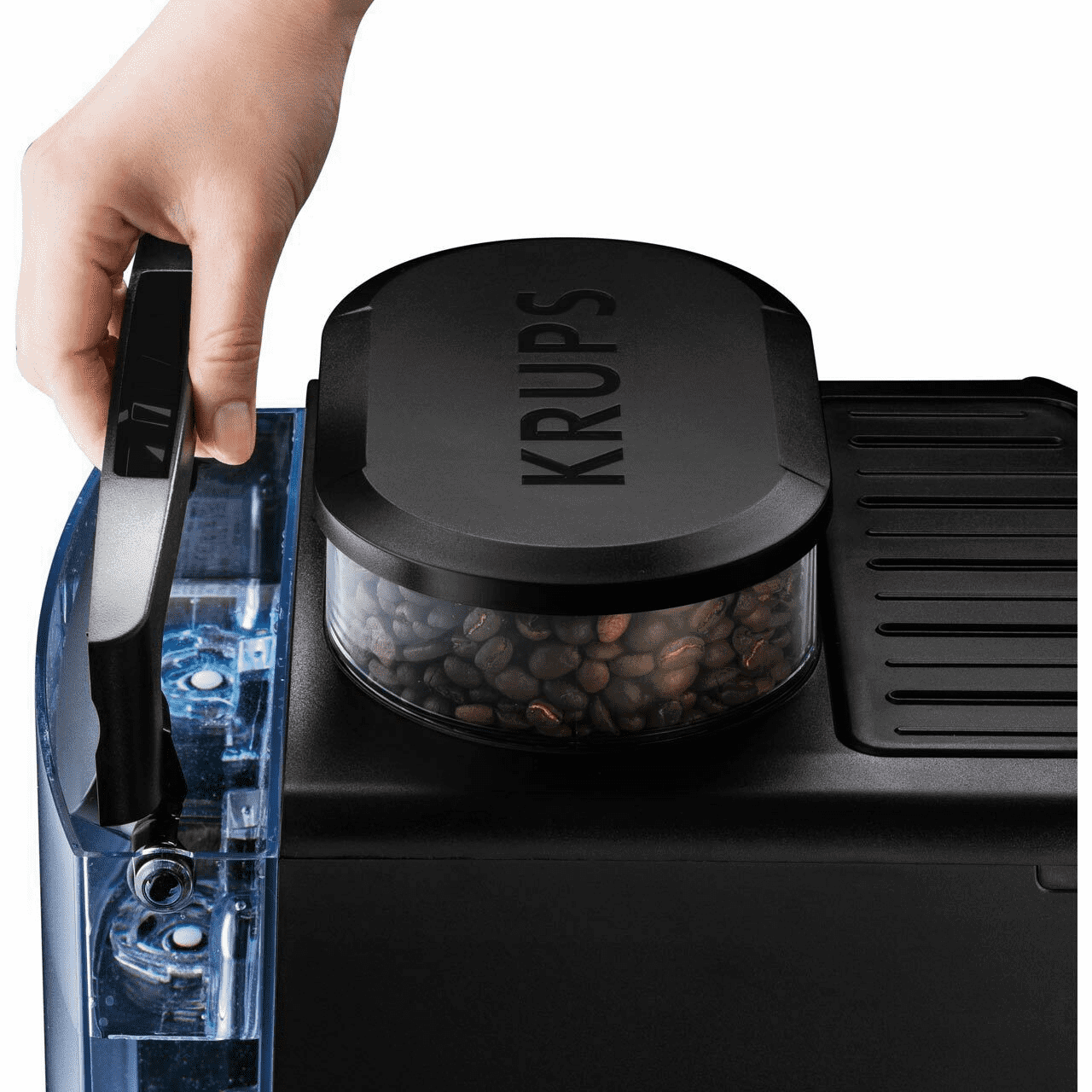 1.7 Litre water capacity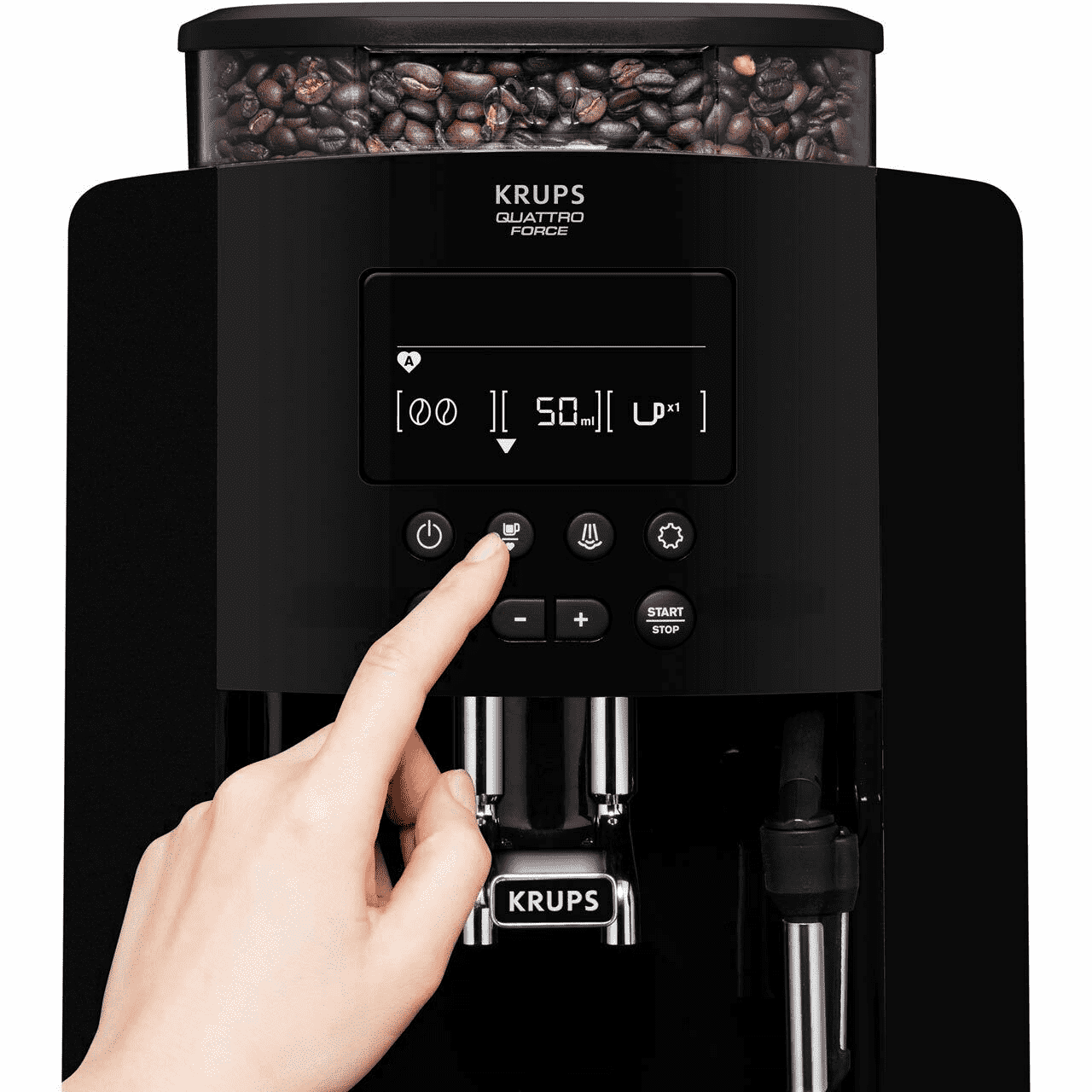 Easy controls
Now it is time for us to take a peek into all of the machine's special features and settings.
To know what conquers the best impressions, scroll further down this review on the Krups EA817040 Arabica Digital coffee machine!
Delivers a Range of Coffee Cups
Are you someone who cannot function to their fullest potential unless you have caffeine running in your veins?
Well, luckily for you, there is a range of ways in which you can make your coffee. So, out goes the possibility that you might grow bored of any one type. Through the myriad of settings on this coffee machine, you can have a different start every morning.
From espresso to long coffee to a cup of cappuccino – the Krups EA817040 Arabica Digital coffee machine delivers the barista-like quality of coffee.
Generous Water Tank Capacity
Are you one of those people who need constant refills of coffee for the best and most productive results? If yes, you know how frustrating it can be to replace the water container in the machine.
Well, that is one thing you do not have to worry about with the Krups EA817040 Arabica Digital coffee machine.
Most of Krups's coffee machines offer a generous water tank capacity as one of its standard features. The EA817040 Arabica Digital specifically has a tank that can hold up to 1.7 litres of water.
As a result, you do not have to leave your task at hand for a cup of coffee. This coffee machine makes things faster and more convenient for you.
It guarantees that you can make at least 10 cups of coffee before having to refill the tank again!
Generous Coffee Bean Container Capacity
If you thought this large machine only offers generosity in its water tank capacity, you were wrong!
The Krups EA817040 Arabica Digital coffee machine can hold up to 260 grams of coffee beans. This container stands directly above the water tank within the box machine. All you need to do is lift the lid without dismantling any part.
The machine further complements this feature by allowing you up to three different kinds of grind. So, you can pick the kind of coffee suitable for you and have the cup ready within a matter of a few seconds.
User-Friendly Control Panel
You can find all the settings for this machine on the front face of the body. The control panel is self-explanatory and easy to use, even with no prior experience with coffee machines.
The user manual explains all of its features if this is your first time with a Krups machine. That said, it is only a matter of time before you familiarise yourself with the settings.
If you want to skip the unnecessary complications, you could always record your favourite drink. This memory is one of the best features of its user-friendly nature.
Makes Fully Automated Espressos
Espressos and cappuccinos have always been the most popular drinks for more than half the caffeine addicts. However, most of this espresso attraction is from the barista outlets.
So, you might not always be a fan of how your cup of espresso turns out at home. But with this fully automated espresso machine, you can leave that worry at your doorstep.
The Krups EA817040 Arabica Digital coffee machine offers you a rich and flavourful cup of coffee without spending exorbitantly at Starbucks. So, it might just be the best investment for you and to your kitchen counter.
Moreover, it comes with the KRUPS Quattro Force technology that makes your coffee taste like a professional made it.
You already know that you can customise your cup of coffee the way you want. But that hardly means you need to keep standing by the machine and hold your cup under its nozzle.
The coffee machine has a manual steam nozzle, so you can make it compatible with the size of your coffee cup.
You no longer have to wait at the Starbucks queue for a cup of professional barista-like coffee. Each of the three kinds of grinding processes extracts the packets of flavour from the coffee beans.
As a result, your coffee is pumping with the rich extracts of caffeine and tannin. The fully automated machine also comes with the KRUPS Quattro Force technology.
It is what is responsible for you savouring the dense espresso coffee.
Now it is time to explore and evaluate the pros and cons of the model. Let us see what outweighs which side.
With the KRUPS Quattro Force technology, your cup of coffee will be full of rich flavour and coffee extracts.
The machine prepares espresso, cappuccino, and such in a way that a professional barista would. Several buyers have testified and vouched for the quality of coffee you get with the Krups EA817040 Arabica Digital.
Do you prefer a fresh cup of coffee ready for you after you finish your previous one? If yes, then you know the hassle of refilling the water tank in coffee machines.
With this machine, however, you need not worry about refill runs as much. The generous water tank capacity of 1.7 litres can serve up to 10 cups of coffee in one go.
Although the coffee machine might look bulky, it has an impressively small footprint. Its box-like design negates the weird and obtuse shapes that sophisticated machines usually go for.
As a result, Krups leaves you with a suitable coffee machine. So, be it your kitchen counter at home or the pantry at your office – the Krups EA817040 Arabica Digital coffee machine will serve as a perfect fit.
Depending on the type of coffee you desire, the Krups EA817040 Arabica Digital coffee machine serves three grinds.
The manual user details how you could access each of these. This way, you will not need to look elsewhere for a variety in your coffee. Every morning could jazz you up with different energy!
Register of Your Favourite Drinks
Are you tired of feeding the same set of settings every single time you get some coffee? Well, with the 'favourites' feature of the coffee machine, you do not have to!
It has a facility that registers your favourite drinks. So, the next time you get the same cup of coffee again, all you need to do is press the favourites button.
It is one of the unique features of this coffee machine.
That said, let us now check if the pros outweigh the cons! Take a look at the downsides of this coffee machine.
Although rare, a few customers have complained of leakage problems with this machine. So, before you settle for it, check for any discrepancies. Make sure you unbox and set the machine up with care.
Dysfunctional Steam Nozzle
Again, this one is a rare case. However, the steam nozzle was problematic for a few customers. They complained that its parts were slightly faulty and not smooth.
Moreover, the steam nozzle is a manual one, so it is better to handle it with care.
The coffee machine is not the most affordable ones in the market. It especially seems pricey for the range of settings it offers. Although they are many, its competitor models provide a lot more features at a lower cost.
Are you a stickler for rigorous cleanliness? One good point with this coffee machine is that it will not get in the way. Since the model design is fairly simple, cleaning it is just as simple to get around to.
As long as you are careful with a few parts, there's nothing like it!
Frequently Asked Questions
#1. Is Krups a good brand?
Krups is a well-known German brand with a reputation all across the globe. All of their bean-to-cup coffee machines are quality-sealed.
#2. How many grinds does it allow?
The Krups EA817040 Arabica Digital coffee machine allows three types of grinds. You can find the specifications in the detailed but simplified user manual for better clarity.
There is a reason why the Krups EA817040 Arabica Digital is one of the most popular espresso and cappuccino machines. Of all its impressive features, three stand out specifically. These are the favourites record and the generous capacity for water and beans containers.
It is easy to maintain and highly durable. So, if you are willing to spend a little on a quality coffee machine, this is the one for you.