De'Longhi Magnifica S, Automatic Bean to Cup Coffee Machine, ECAM22.110
DeLonghi Magnifica S, Espresso and Cappuccino Maker Review
De'Longhi Magnifica S ECAM22.110 is one of the best bean-to-cup coffee machines in the market today. So, if you are in a rush but cannot function unless caffeine runs through your veins, here is your solution!
It makes your automated espresso and cappuccino in a matter of minutes. And that is not all! It comes with a milk frother if you are one for creamy cups. Several settings on the machine allow you customisation.
That said, how are its features when you compare them with other coffee machines? How much more durable and affordable is it? Well, scroll further down our De'Longhi Magnifica S ECAM22.110 review and find out for yourself!
The De'Longhi Magnifica S ECAM22.110 is an extremely easy-to-use bean-to-cup coffee maker. It is fully automated and can make you a cup of espresso, cappuccino, or Americano as you wish.
Slim & compact bean-to-cup machine. Customise your favorite cup of coffee. Equipped with a manual cappuccino device ideal to produce a rich froth for your cappuccino
It allows a myriad of settings, some better than its competitors. So, let's delve deeper into its unboxing, settings, and features for a better idea.
De'Longhi has always been a popular choice for home and kitchen appliances ever since it first came out. Its Magnifica S machine sticks to this word just as much as any other product. Not only is it simple to unbox and set up, but also use in your day-to-day life.
With this machine, you better believe that you will have a cup of espresso or cappuccino faster than ever. The only thing you will have to spend some time over is getting used to the plethora of functions it offers.
It comes with a detailed but simple-to-understand user manual to assist you with its unboxing. What's more is that when you compare it with other models, it is far easier. If you are one for the designs that appeal to your geeky need for coffee, this one is for you.
As mentioned earlier, the unboxing and setting up of the machine is easier with the user manual it comes with.
Through the settings it offers, it makes for a perfect fit for a range of people. While you are unlikely to go wrong with setting it upright, you always have a chance to start from scratch.
So, there is no need to get anxious over its unboxing or setting up.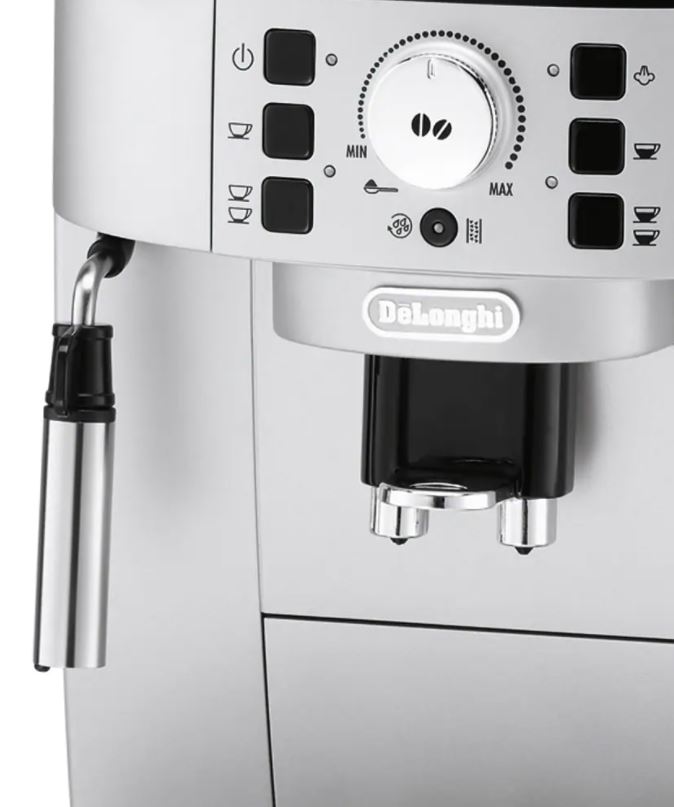 Compact & Elegant style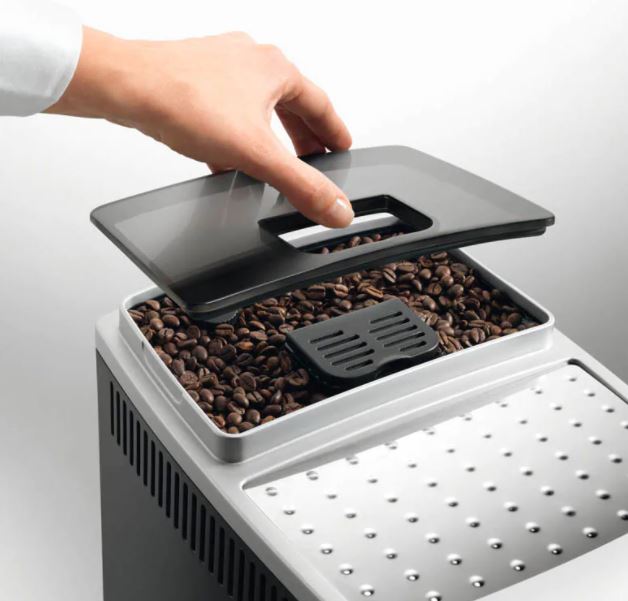 Grind full beans in seconds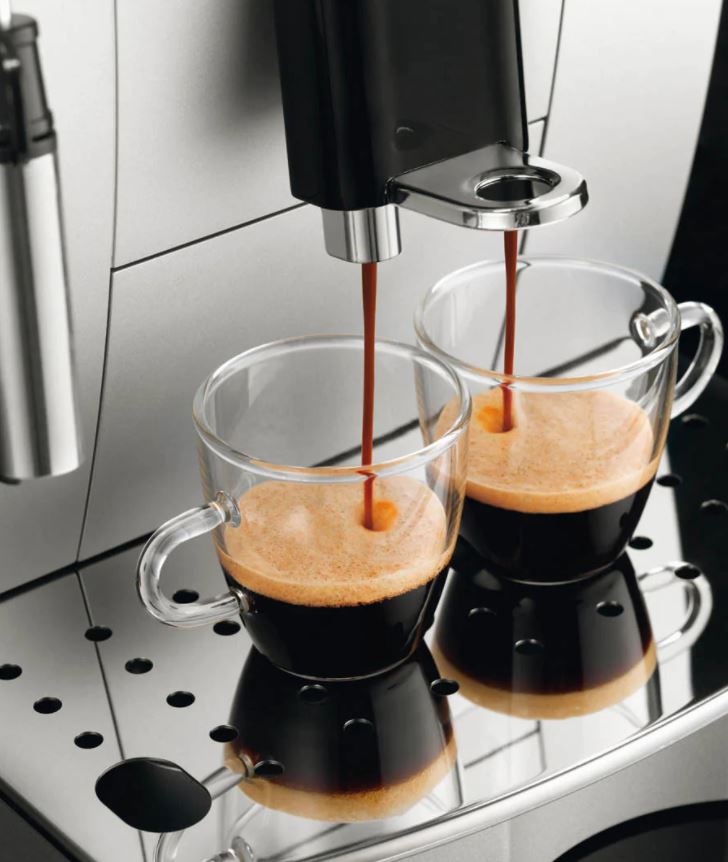 Dual espresso maker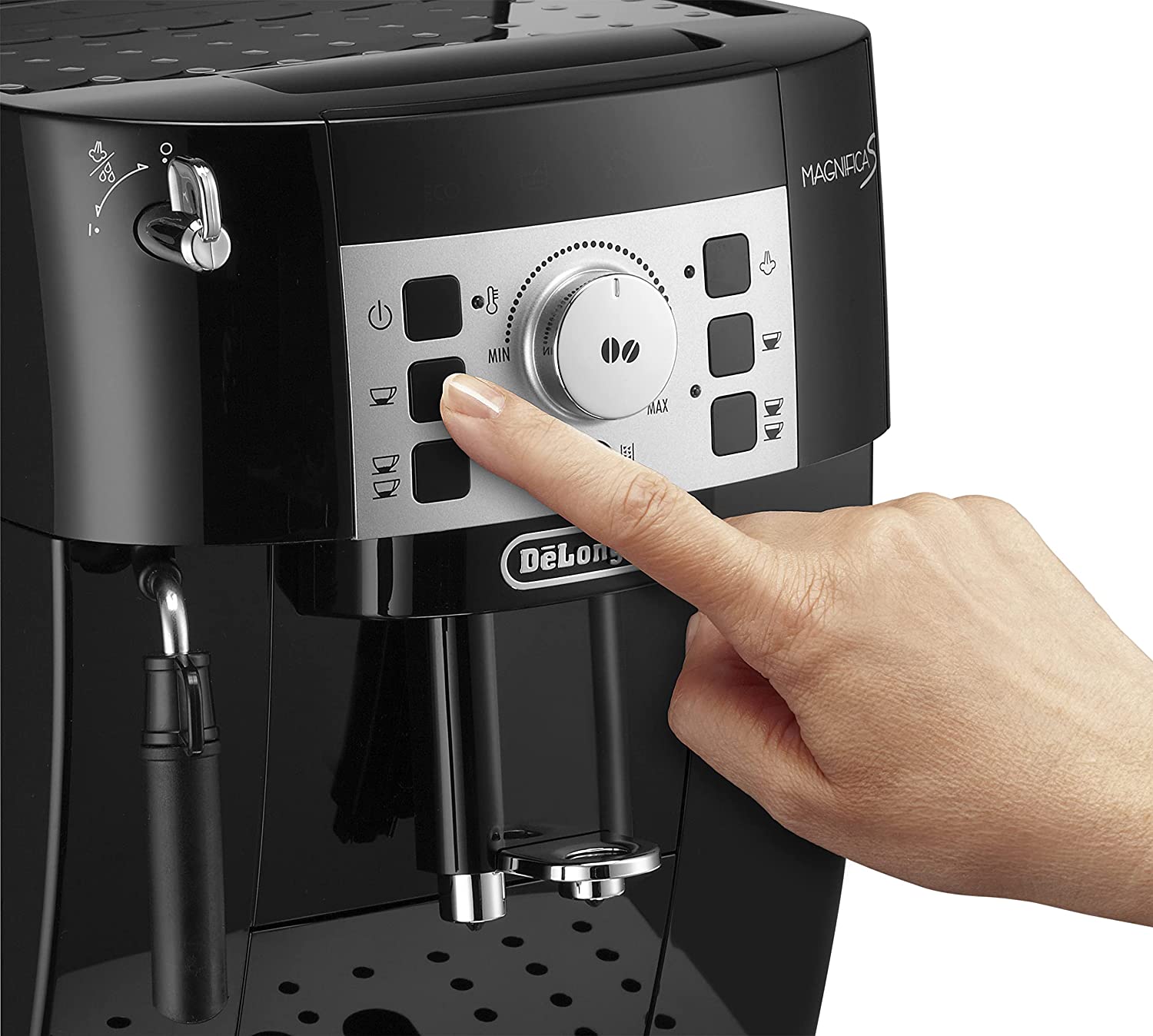 Controls for any type of coffee
As you can probably tell by now, the De'Longhi Magnifica S ECAM22.110 machine is one with an elegant design.
It is unlikely that your first impression about its appearance and design would be negative – especially if you are setting it up at your home or office.
This bean-to-cup coffee machine comes with a slim and non-bulky body that does not overwhelm the setting it rests within. Neither do its dimensions take up a lot of space on the counter.
That said, it is time to take a look at the features that impress the most. So, keep reading the review for a comprehensive understanding of the De'Longhi Magnifica S ECAM22.110 machine!
Works With Both Fresh and Ground Coffee Beans
One feature that sets this machine apart is its ability to work with both fresh and ground coffee beans.
Working with fresh coffee is not something difficult to nail. However, things get tricky with ground coffee beans. And we might not always have fresh coffee at our disposal.
This situation is where the De'Longhi Magnifica S ECAM22.110 coffee machine outshines its competitors. If there is a bag of ground coffee lying around your house, it is time to use it up!
And while ground beans seem redundant in the times today, they produce a lot richer flavour. Its caffeine and tannin content is much stronger, and you can taste it in your cup. If you are an avid caffeine addict, you know the benefits that you can reap from ground coffee beans.
So, it is never a bad idea to keep some of these beans beside you – especially now that you have the De'Longhi Magnifica S ECAM22.110 coffee machine!
Generous Water Tank Capacity
Almost all De'Longhi machines come with this standard feature of water capacity. It offers a generous water tank capacity of 1.8 litres.
So, are you someone who needs coffee running through your veins throughout the day? With the De'Longhi Magnifica S ECAM22.110 coffee machine, your life will become a lot more convenient.
You would not have to waste time replacing the water in this tank for a long time. So, that no longer remains a point of frustration with coffee machines.
Are you a fan of airy, creamy, and milky coffee? Such types range from lattes to cappuccinos. If your answer is yes, nobody can stop this coffee machine from attracting you.
Its manual milk frother whips up air and milk for you and makes your cup a lot creamier. This frother lies on the left-hand side of the coffee machine.
What it does is blow hot jets of air through the milk. In fact, that is how most of the popular coffee houses like Starbucks operate too!
So, this one has seen immense improvisation, especially in comparison with the older machine ESAM4200.
The only drawback here stems from the fact that the setting is manual and not automated. So, you would have to spend some time warming the milk up and froth it.
But to fasten the process, you could always heat the milk in the microwave before carrying on with the remainder of the process.
The De'Longhi Magnifica S ECAM22.110 coffee machine offers a two-year warranty. This feature on the bean-to-cup machine is especially impressive for those in the UK.
What it stands for is strong quality and durability. If you compare it with other machines, it is much more affordable for such a warranty.
Makes Automated Americano
Espressos and cappuccinos are at the top of the popularity list of most coffee lovers. However, the taste and desire for an Americano have also started to dial up on the ladder.
With the De'Longhi Magnifica S ECAM22.110 coffee machine, you can never get bored of just these types of coffee. It offers an automated Americano cup for you to pick change once in a while.
As mentioned earlier, the one-touch control panel is as versatile as it can get. But that does not mean you need to stand by the coffee machine and make sure the coffee does not spill around.
The adjustable nozzle height settings ensure a clean cup of coffee for you.
Without a doubt, the closest you can get to a Starbucks espresso at home is with this coffee machine. And the best part is that you do not have to compute complex settings to get yourself this cup.
Its simple control panel helps you customise the espresso in the way you truly appreciate.
Its thorough brewing process never fails to please your taste buds, given how it extracts the coffee flavour from the beans.
Lastly, we approach the pros and cons section for this machine. Take a look to find out what outweighs what!
Simple and Soft One Touch Programme Setting
Along with the 15-bar pump setting, the machine comes with a simple and soft one-touch program setting. So, you get to play around and explore the various selections it offers. That said, you will not waste time over it, given the one-touch control panel.
Here are the one-touch settings it offers:
One-touch short coffee button
One-touch long coffee button
One-touch two short coffees button
One-touch two long coffees button
If you choose one of the latter two options, you would need separate cups under each nozzle. After this, your work is done.
Alternatively, you could also be one for a large coffee. In this case, you can dispense the double large coffee by placing one large mug under the nozzles.
Given the complex and large variety of settings that this machine offers, it sure is very durable. Although the official warranty is for two years, the machine lasts a lot longer than that.
Past customers have testified to the fact and are happy with the way it operates.
Along similar lines comes its price range. The De'Longhi Magnifica S ECAM22.110 coffee machine is quite affordable for a machine that offers such variety and duality.
The ratings speak for how happy the past customers have been with the product. And most of them are especially impressed with the factor of affordability around it.
As mentioned earlier, the machine is not only easy to unbox and set up but also simple to clean. Its easy settings and adjustability feature further make it effortless for you to separate its elements.
So, if you are one to frequently clean every bit and corner of the machine, the machine is a good choice for you.
Who needs a noisy morning or wants to deal with the sound of coffee grinding right after waking up?
Luckily for you, with the De'Longhi Magnifica S ECAM22.110 coffee machine, you do not have to worry about any cacophonies. Its silent integrated grinder comes with 13 different settings. None of these settings creates a commotion to give you the cup of coffee you deserve.
That said, all coins have two sides. So, take a peek at the downsides of this coffee machine.
Although most of the dismantling part is easy, you need to take extra precautions in some cases. For example, be careful while removing the shields on the frother. It comes with 2 'O' rings that tend to come off with the shield.
As a result, the air will escape and not allow frothing of air with milk and cream.
As mentioned earlier, warming the milk takes a lot of time. However, if you heat it in the microwave, you can fasten the process comparatively.
Manual Settings Could Get Tiring
Along similar lines, the manual settings on the frother could get tiring. Waiting around for your coffee could call for a problem, especially if you are running behind schedule.
If you are one for rigorous cleaning drives, this coffee machine will not come in your way. Cleaning it is one of the easiest features it allows.
Although you need to be careful with some parts, the maintenance becomes a lot simpler once you get the hang of it.
Frequently Asked Questions
#1. Can the machine deliver hot water?
Yes. For hot water, turn the left-hand side lever anti-clockwise. It shall indicate towards delivering hot water.
#2. Can you use it for pre-ground coffee?
Yes. For decaffeinated alternatives, you can use the machine with fresh beans, ground beans, and even pre-ground beans.
The De'Longhi Magnifica S ECAM22.110 coffee machine is one of the most popular machines for espresso and cappuccino. Its simple but versatile features on the one-touch control panel help you keep things exciting.
With the two-year warranty, easy maintenance, and affordability, you can skip spending unnecessarily on a cup of Starbucks!