DeLonghi Dedica EC685M Traditional Pump Espresso Machine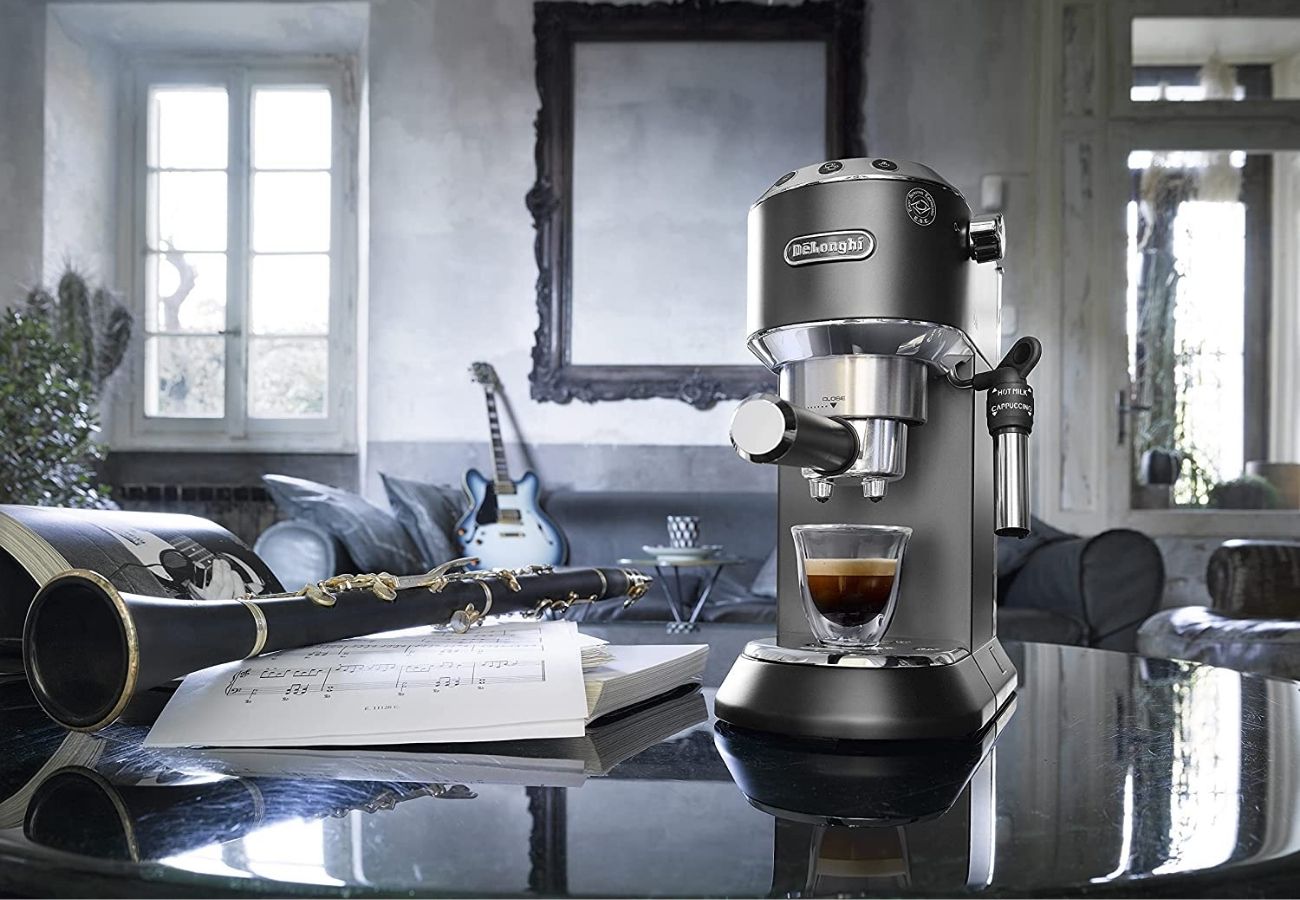 Delonghi Dedica coffee machine review
Do you want to give your hand at trying to make coffee at home that tastes like your favourite café? The De'Longhi Dedica Style EC685M has been a deluxe addition ever since its release back in 2017. It is a manual and entry-level espresso machine that makes high-quality coffee in the comfort of your home.
It has an intuitive 3-function interface and adjustable milk frothing system. Due to that, you can get better coffee than your neighbourhood shop. Furthermore, the Thermoblock and auto shut-off feature it houses ensures a perfect brew whenever you want. It has a sleek design which makes it an ideal addition to your kitchen.
Even then, you may be pondering about its innovative features. Does it have a good espresso taste, and is it easy to clean? If you want to find out, keep on reading our detailed review.
The De'Longhi Dedica Style EC685M has been dominating small kitchens. People who own this machine have been experimenting with it to brew different types of espresso, from ground coffee to capsules.
Simple on the outside but secretly packed with sophisticated features, the De'Longhi Dedica is a stylish home espresso machine that you can rely on
Furthermore, any espresso machine's manual functions remained similar throughout the years. Yet, this Dedica Style model offered an enhanced convenience and balance in the form of usability and appearance.
When you receive the package, it will weigh 4.22 kg (9.30 lbs.). If you order it from Amazon, it will come in their packaging. Upon opening it, you will find a navy-blue box with the De'Longhi branding.
Once you take the box out and open it, you will be greeted with hefty instructions. After which, you need to take out the machine from the box carefully. After removing the plastic covering the product, you will notice its high-end material and compact design.
The box will have the following components:
Drip tray
Water tank and the lid
Control panel buttons
Cup warmer
Steam dial
Frother
On and off switch that can auto turn-off
Filter holder (3 cups)
Dispenser measuring scoop
Firstly, we recommend that you look at the instruction manual to understand the setup process better. For your convenience, take a look at these steps:
Step 1: Plug it into your nearest port.


Step 2: Click on the main switch on the side. It will perform a self-test by warming up (sequential light flashing).


Step 3: Once the light dims out, the machine is ready.


Step 4: Take out the tank from the back and fill it up with water.


Step 5: Turn the steam dial to the water droplet position to prime it.


Step 6: Finally, you need to take the dial to the "O" position.
The espresso machine will be all set and ready for use in under 10 minutes if you follow these simple steps.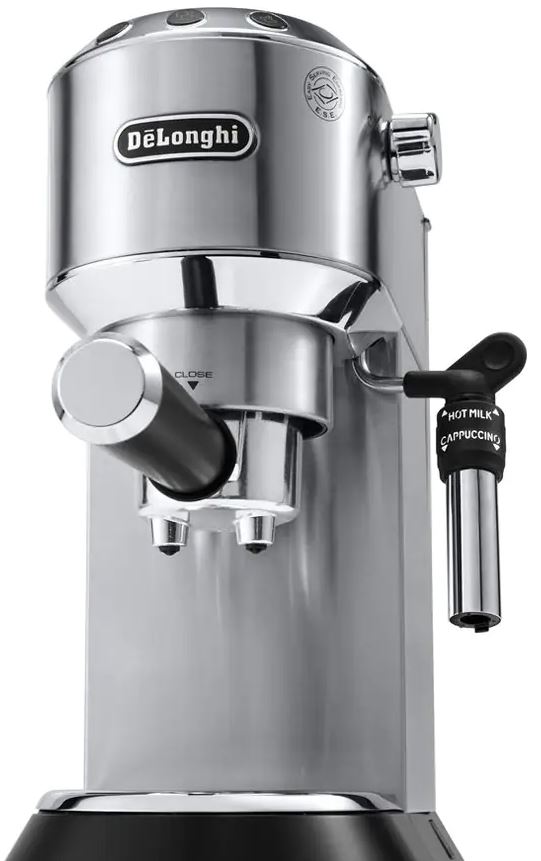 Stainless steel in 3 colours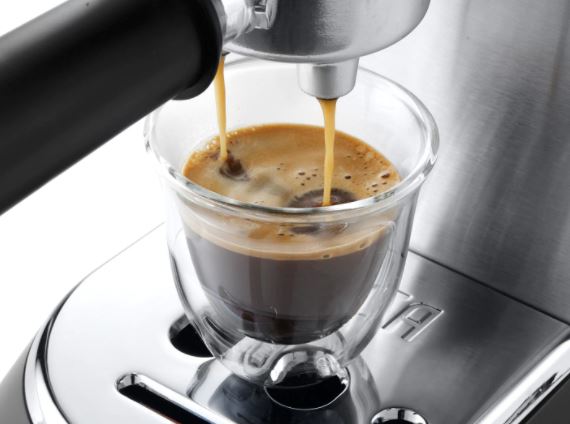 Dual Espresso machine maker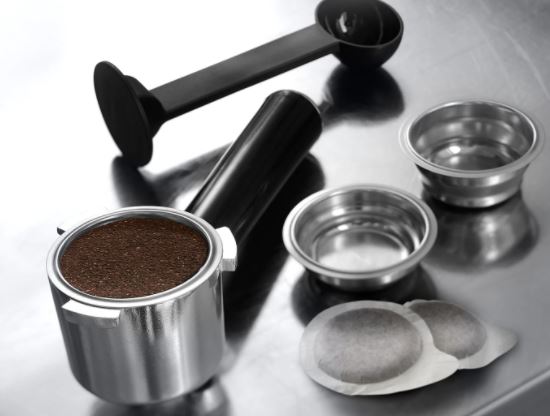 Dual espresso / POD COFFEE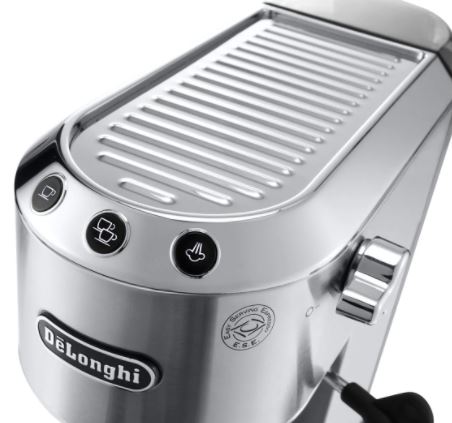 Easy Controls
Appearance and Design of This Espresso Machine
The most intriguing feature of this device is its sleek design that goes well anywhere in your kitchen. It gives off a homely feeling and is easy to use. There is a casing covered by stainless steel intricately designed to fit your home.
You will find it to be slim because of the 15 cm width it houses. Moreover, we consider it to be the smallest design packed with incredible features.
The De'Longhi Dedica Style EC685M packs a slim dimension of 33 cm (W) x 14.9 cm (D) x 30.3 cm (H). You will find the machine to be a little on the heavier side due to the 9.30 lbs. weight. Even then, the slimline makes it a great addition to your kitchen.
The design features a water reservoir that can hold up to 35 ounces of water. The milk frothing wand allows you to make versatile coffee drinks for your every mood.
Due to the adjustable system, you can choose between making frothy cappuccinos, cafe lattes, macchiatos, or espressos.
Overall, you can say that the design and its appearance are minimalist yet perfect.
Upon proper analysis, we have deduced that the De'Longhi Dedica Style EC685M model is an ideal pick as your go-to espresso machine. It comes with a 1-year guarantee upon purchase from any retail website.
Unlike other manual espresso machines, this model has been entirely manufactured with the customer's usability in mind. Indeed, you cannot master the art of coffee making the very day it arrives. But you can learn to use this simple design.
When it comes to the control panel, it is incredibly easy and comfortable to use. The intuitive and minimalist 3 function system offers instant results.
We found the versatility of ground and capsulated coffee in this device when used in the solid portafilter with a unique design. Moreover, this has a sturdy ESE pod compatible design that makes delicious coffee.
The Compatibility of Cups and Mugs
One thing that intrigued us is the drip tray it houses. Due to the adjustable feature of this tray, you can use a wide variety of glasses or mugs to drink from. Not only that, the coffee sprout can easily fill up cups that are up to 13 cm.
Therefore, this helpful feature allows you to enjoy your coffee just the way you want.
If you are a first-time user, you will love this innovative feature. What we found intriguing is the accuracy when it comes to the auto shut-off feature. So, how do you use it?
First, you need to set a limit to your espresso dispersion from the nozzle. Once the level is reached, De'Longhi will automatically stop dispensing.
We believe that the taste of the espresso is above average. Moreover, it can produce a powerful shot of the coffee that is creamy and delicious.
It is due to the 15 pressure pump bars, which extract good flavours of coffee.
Even so, we did notice the coffee to be slightly watery as compared to other high-end models. But some will like the thickness as it is. On the other hand, the foam quality was good enough, but the texture was slightly dimmer than we initially desired.
When it comes to positives, this machine has a lot of it. Take a brief look at the pros:
You will find it is very easy to clean this device. All you need is a warm cloth and a toothpick or a needle.
The use of Thermoblock in the mechanism keeps the water at a regulated temperature. Therefore, you can brew perfect cups of coffee.
As mentioned (a few times) earlier, this tray can hold any mug or cup up to 13 cm so that you can enjoy "any" cup of coffee.
If you adjust a dispersing level, the machine can automatically detect it and stop the flow of coffee. It is extremely useful in times when you are busy and need a quick cup.
The texture of this machine has a stainless-steel body with a 15 cm width. Hence, you will find it perfectly easy to store in the corner of your kitchen.
Even with so many positive aspects of this espresso machine, we cannot ignore its subtle cons. Take a look at the negative features in the De'Longhi Dedica Style EC685M model.
Even though you can avoid this from happening, it still causes a problem for many users. Sometimes, you will face this issue when you have friends and need to make a huge batch of espresso.
Nevertheless, the machine will indicate its overheating mechanics due to the Thermoblock technology. It can automatically shut off due to this issue. Even then, you will not have problems while making a solo cup of coffee.
If you use ultra-thin coffee ground, it is highly likely to clog the machine when not cleaned properly. So, we would suggest you invest in high-quality coffee to enjoy the full potential of this machine.
We would say that this is a very subjective issue, and it might not affect you either way. The nature, function, and price of the quality machine allude to a moderate frothing job.
So, you might not get luscious, voluminous, and classy-looking froth from the mechanism. You can use it to make decent latte art, but not something high-profile.
By now, you probably know how intuitive this espresso machine can be. The compact design makes it easy to store, but how do you clean it after using it?
Moreover, it would be best to maintain it after cleaning not to lose its functionality. You can follow these steps better to understand the De'Longhi Dedica Style EC685M cleaning process.
Cleaning the Frothing Mechanism
You can easily pull this down by unscrewing and rotating it counter-clockwise. The nozzle will expose itself, and you can pull it downwards to pull it out. Furthermore, it would be best to take a clean cloth, dip it into warm water and clean the nozzle where the steam comes out.
Once you are done with that, you can take the pulled-out nozzle and run it under warm water. You can even use a needle to clean the hole inside this nozzle.
Then, just put it back into place using the same technique.
To clean the unscrewed frother, you need to pull on the ring so that the hole appears gently. Once it is in sight, you wash it under running water and use the same needle technique.
When you are done, take this frother and insert it on the nozzle by turning it clockwise.
Cleaning the coffee filters is relatively easier. All you have to do is extract the filter from the cups. As mentioned earlier, these are perforated filters, so you have to clean them under warm running water.
Or, you can use a brush to clean the cup and a toothpick for the hole. When you are done, make sure to secure the filter onto the cup.
Frequently Asked Questions
We have addressed a few questions that people had before investing in the De'Longhi Dedica. You can take a look to clear out any doubts about this model!
#1. Does the plastic part of this machine have BPA?
If you look at the manual, you will understand that the plastic used in the model is free from harmful BPA or parabens.
#2. How much power will the device use?
In terms of wattage, the machine will feed on 1350W. Moreover, the voltage required to make it operational is 220V.
#3. Till when is the warranty valid for this machine?
When you buy the EC685M, De'Longhi will offer you a warranty of 365 days that protects you from damage to the machine.
#4. Is the milk foam created from the frother worth it?
Yes! You will have a velvety smooth milk foam by using the frothing instrument correctly. So, you can have a delicious cappuccino or a balanced espresso.
#5. What are the highlights of this espresso machine?
The feature that makes this machine a must-buy is its compact design ESE pod compatibility. Moreover, it has an auto shut-off feature along with an intuitive control panel.
We will consider the De'Longhi Dedica Style EC685M model an ideal choice for people needing casual coffee. Moreover, this espresso machine has unique features like the manual frother, the heating system, and more.
You can get a wide range of coffee beverages from this machine. We have to say that the price is a little higher considering the quality you get. Nonetheless, a leisurely cup of espresso from this machine will light up your mood.
To top it all, it is easy to clean and maintain. Even then, the machine is only compatible with ground coffee and capsules.
If you are looking for something compact, easy-to-use, and versatile, this is the right one for you.