Delonghi Eletta Cappuccino Fully Automatic Bean to Cup Coffee Machine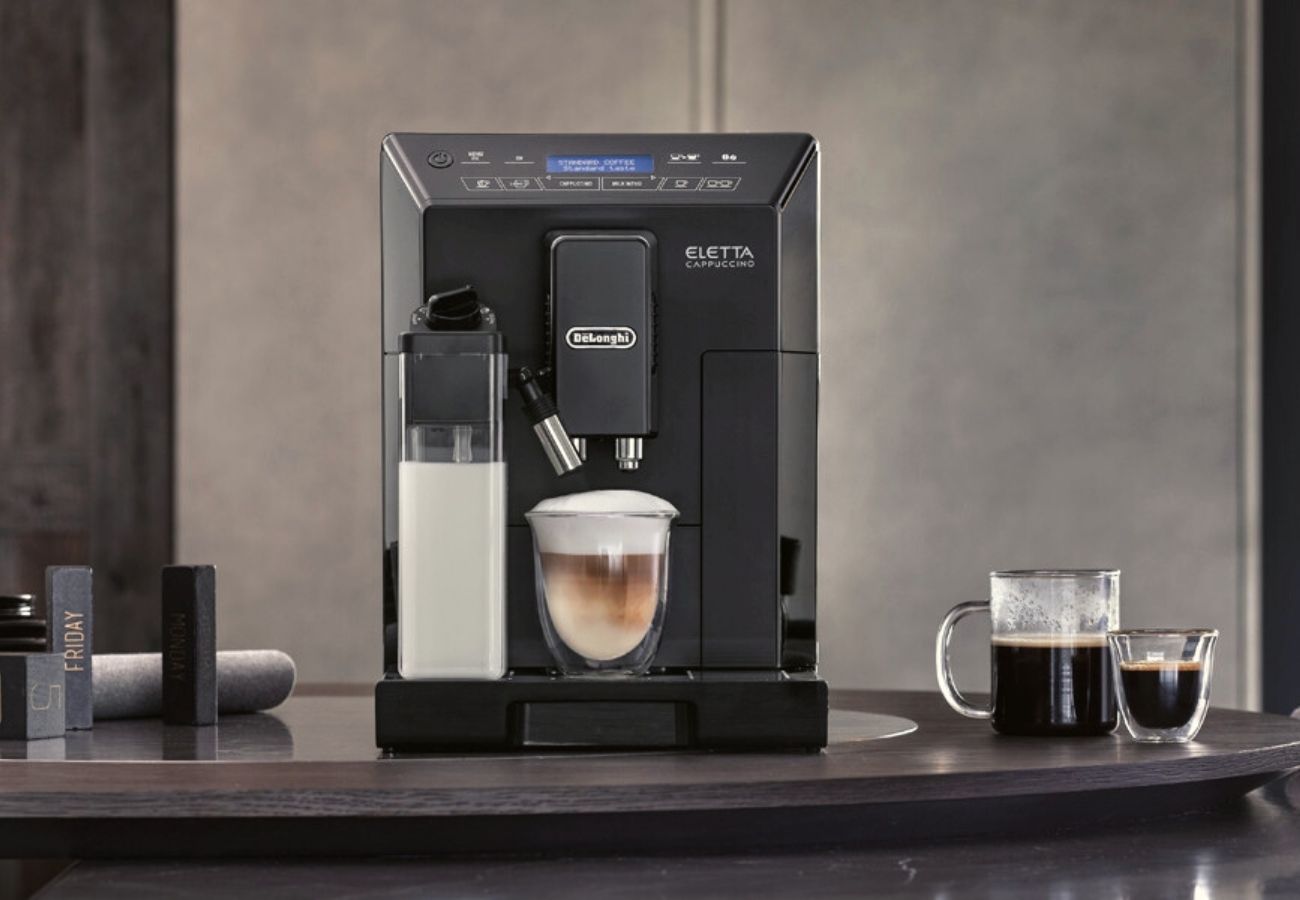 DeLonghi Eletta Cappuccino Fully Automatic coffee machine
If you crave for latte or morning cappuccino regularly, it's time to get introduced to this super-automatic Delonghi Eletta Cappuccino coffee machine.
The Delonghi Eletta Cappuccino will extract the smoothest copy of espresso shots. It will perfectly grind your coffee beans to deliver the perfect ratio of rich extract to a creamy foam.
The innovative thermoblock technology can deliver your coffee in all ranges of temperature – moderate temperature to piping hot.
With the single touch of a button, the De'Longhi Eletta can offer you the ultimate cappuccino or espresso quality.
Customizing your cup of coffee couldn't have been easier. You can choose from a long, medium, or short cup of cappuccino or espresso. You can also personalize the taste ranging from extra strong to mild.
Nothing else can beat freshly ground beans to create your favourite coffee. Whether you like a strong espresso or long frothy cappuccino, this machine can deliver it at a touch of a button.
The DeLonghi Eletta cappuccino also enables you to choose from your range of favorite milk drinks. Whether you want a flat white drink, hot milk, or espresso macchiato, this automated machine has got you covered.
The froth regulating dial comes with an automated cleaning mechanism to ease your maintenance process. The intuitive control panel is soft to touch and displays your choices easily.
The adjustable height dispenser allows you to accommodate either espresso cups or full-size caffeine drinks. This automatic bean-to-cup machine has everything to meet your caffeine mood.
This bean-to-cup coffee machine brings home a patented automatic system that instantly delivers the richest coffee ever! The latte crema micro-foam advanced system will provide you with the best cup of cappuccino, cafe latte, latte macchiato, espresso macchiato, flat white, and more.
It also comes with a hot water spout system to provide hot water for days when you want a plain cup of tea or infusion.
This coffee machine comes with a 2-liter water tank that can be removed as per your convenience. You will also get a water filter that delivers exceptional quality service right from the beginning.
The container tap will save the flavor of your coffee and keep it fresh. The beans will retain their rich flavor until you decide to pour a cup of cappuccino or espresso. The Eletta machine offers added flexibility by allowing you to use grounded coffee or whole beans.
The DeLonghi Eletta Delonghi Eletta Cappuccino gets an edge over other products in the market owing to its digital display. It provides you feedback about your presets via the digital display.
The LCD display will view your selections to make it easier for you to choose. You can easily set your preferred type of coffee, the size of your cup, and how strong the coffee will be.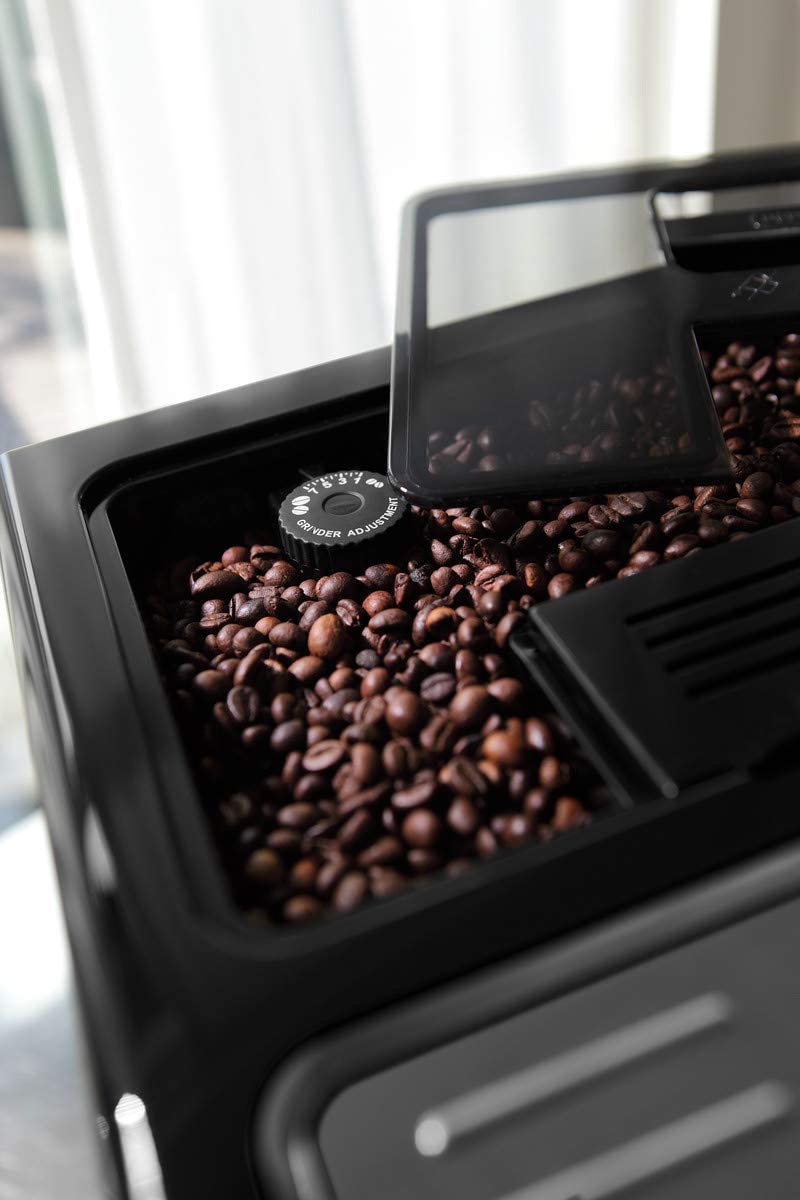 Excellent quality in one cup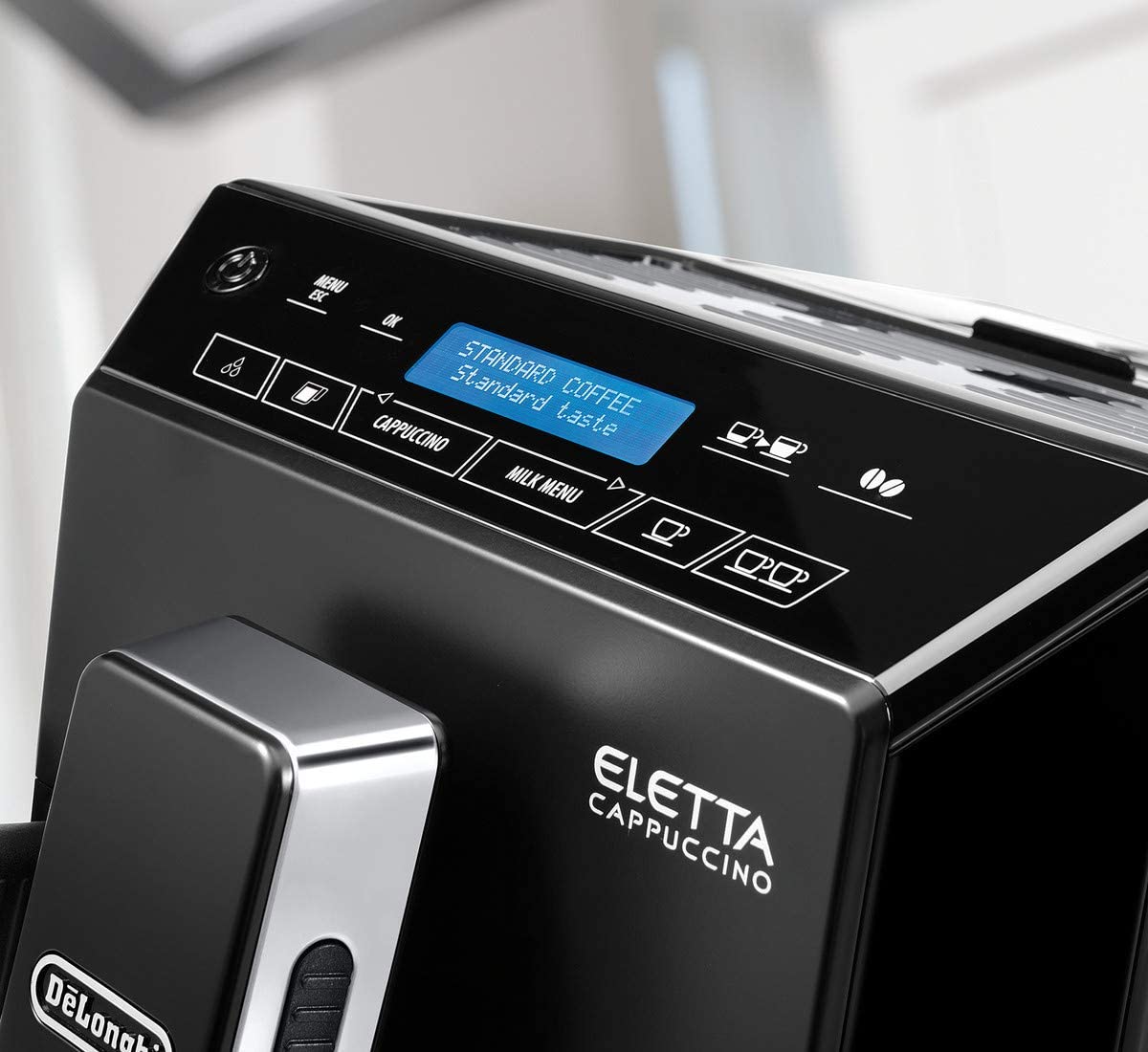 Your beverages at one touch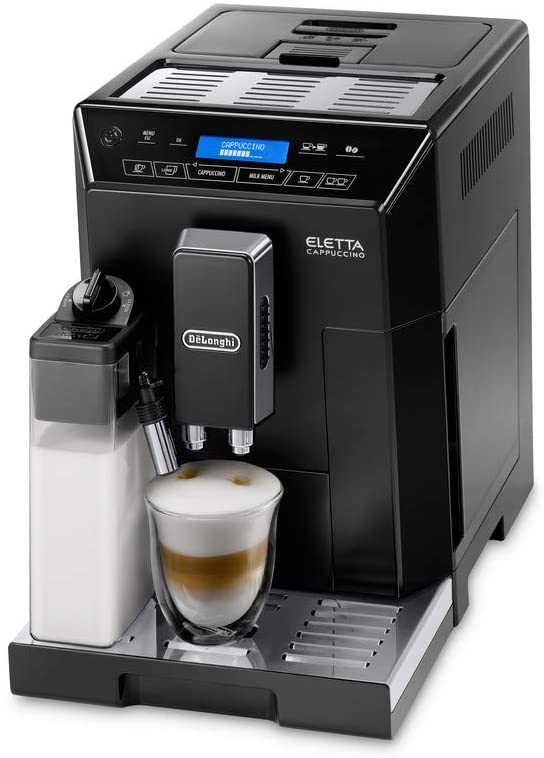 Elegant & stylish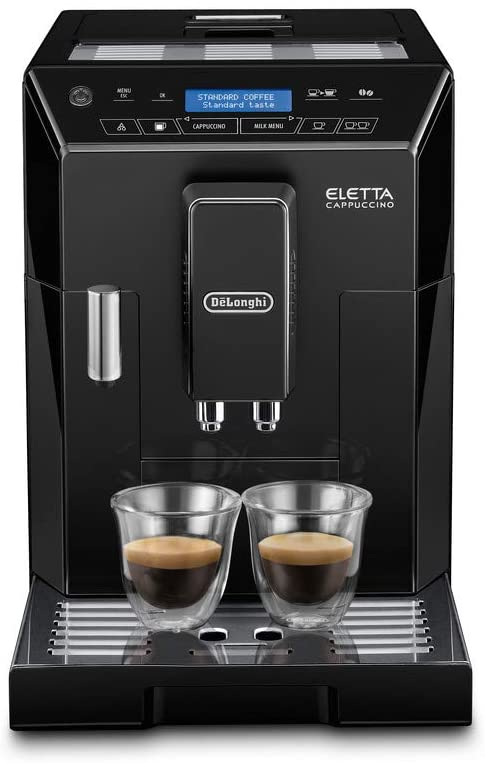 Dual Espresso maker
This feature is increasingly becoming popular, yet many coffee manufacturers are yet to integrate it into their coffee makers. The De'Longhi Eletta enables you to enter your own program settings to customize your cup of coffee.
You set your own preset and configure the milk settings as per your liking. You can also alter the coffee settings depending on your tastes. The machine allows you to save your preferences to its memory to get that perfect cup of personalized coffee every time.
The grinding features of a coffee machine determine its efficiency and taste. The DeLonghi Eletta scores high in the configurable grinding settings.
You can get everything ranging from smooth to coarse coffee. There are 13 settings in the De'Longhi Eletta, which makes it a premium choice in the field of coffee makers.
The whopping number of settings will meet everyone's delicate taste needs. If you are excessively fond of coffee, you already know that grinding coffee beans are the essence of your perfect cup of coffee.
If you are a fan of coffees that has a rich milk base, then the DeLonghi Eletta is perfect for you. Latte lovers or cappuccino fans will deeply appreciate the simple yet fresh milk functions.
The machine will deliver the best milk frothing functions and add a creamy texture to your coffee.
If you love store-bought coffee, it's obvious that you want a similar taste at home. While Starbucks latte can taste satisfactory, they will dig a hole in your pockets.
To cater to the needs of coffee snobs and coffee purists, the Eletta coffee machine offers the creamiest cup of cappuccino.
Always heading to a renowned coffee shop is neither feasible nor budget-friendly. While manual machines can be time-consuming, this automated Eletta machine is quite the opposite.
If you use its standard settings, you will get a rich cup of coffee with a creamy foam. The De'Longhi Eletta can match the standards of top coffee shops, including Starbucks.
Unlike other coffee machines, the De'Longhi Eletta can offer personalization in terms of temperature, flavor, taste, and size. It offers an extensive choice of beans and various customization controls.
Initial Impressions | Unboxing | Setting It Up
The De'Longhi Eletta is a stylish and slick looking coffee machine that can add an aesthetic touch to your kitchen worktop. You will get it in two colors – white and black. You can read the manufacturer's specifications for the basic setup.
After you have done the initial setup of the Eletta machine, which takes around 15-20 minutes, you can start with the next step.
Install the filter in the given water tank after going through the basic settings. The De'Longhi Eletta is quite simple and quick to use. Turn the machine on and let it warm up for a minute.
The coffee maker comes with a convenient set of buttons displayed on the front panel. You can use the digital display and choose from long coffee, double or single shot espresso, caffe latte, straight milk, or latte macchiato.
You can also personalize the brewing, volume, and strength of your coffee. The machine is integrated with a drip tray to collect water after the initial rinse. The water gets collected in between when the machine is turned on initially and when the final rinse is turned off.
The used coffee grounds get collected into an attached internal container. The container can hold around 14 drinks of ground coffee.
The De'Longhi Eletta will flash a warning message when the internal container gets filled. You can just pull the grounds out and dispose them off.
The water tank also offers great convenience and can slide out easily. It can hold about 2 liters of water and offers easily filling features.
Frequently Asked Questions
If you are having some questions regarding this product, we hope that this section serves your purpose.
How to steam milk in the De'Longhi Eletta?
Many coffee lovers don't want the milk to cool down the espresso or coffees too much while it is being added. The De'Longhi Eletta comes with an in-built system to dispense relatively hot milk that is neither boiling nor cold.
The cooling effect in De'Longhi Eletta will be slight compared to other coffee machines. It will deliver your perfect cup of hot coffee. It is easy to steam milk in the De'Longhi Eletta by entering your specifications into the digital display.
How good is the milk frother?
If you want a coffee machine that matches the level of Costa or Starbucks, it may be hard to find. However, the De'Longhi Eletta comes with some unmatched level of automatics.
This machine scores a great digit when it comes to its milk frother wand. If you want a rich, creamy flavor, then you can opt for this machine.
How long does it take to make an espresso?
Allow the machine to warm up for a minute or two. Generally, in the case of cold machines, the wait is longer. However, the De'Longhi Eletta will quickly grind your coffee beans.
It usually takes a couple of minutes. However, the rich taste is worth the wait!
Are other colors available?
The De'Longhi Eletta usually comes in two colors – white and black. Both colors have similar features and performance.
You will also get a silver version if you opt for the non-milk version. The silver version is much cheaper than the white and black one.
What do the customers say?
Most De'Longhi Eletta machine owners claim that it is undoubtedly the best machine for making cappuccino and espresso at home.
The review sections are filled with high praise from the customers. It is incredibly popular among many homeowners.
The main pros of the De'Longhi Eletta are –
It is easy to use given the LCD digital display and preset system.
It is a premium quality coffee machine that will deliver a rich milky froth
The programmable functions are unmatched
Good creamy texture with ideal milk froth
It is incredibly easy to clean and descale
The first con of this product is that it is fairly expensive. The second con is that it doesn't come with a setting for espresso macchiato.
However, the machine does have a programmable option that enables you to create your own choice of coffee without any hassle.
The De'Longhi Eletta is a win-win machine for us. If you can afford this machine and like the sleek look of it, then you must buy it. It is a great purchase, even for newbies. The easy descaling and cleaning process help to maintain its longevity and offers great value for money.
The removable milk carafe makes the job simple and quick. However, if you want cheaper alternatives, then the De'Longhi brand has some amazing low-priced coffee makers. But we will suggest you to go for the De'Longhi Eletta as it is the best for cappuccino or espresso lovers.