Best Nespresso Machine With Milk Frother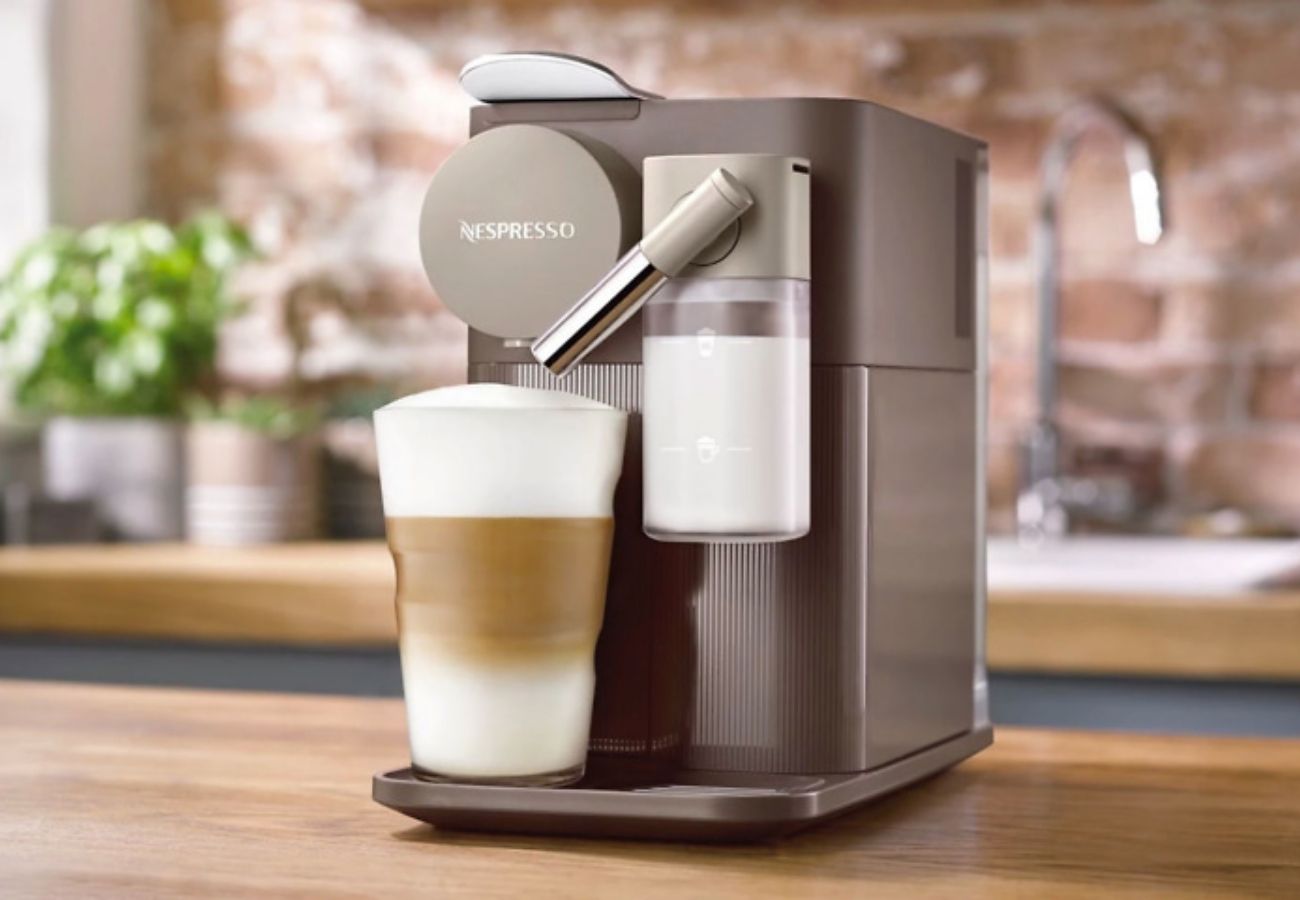 What are the Best Nespresso Machines with a milk frother?
Nespresso Machine With Milk Frother never fails to amaze us when it comes to coffee and innovation. Their two lines of coffee machines, the Original Line and the Vertuo Line, have both been outstanding in maintaining the standard in authentic espressos and coffee.
With coffee drinkers confused about which machine is best for them, we've prepared this quick read to compare two of the best machines in the Nespresso Original Line. The Nespresso Creatista Uno by Sage, and the Nespresso Lattisima One by Delonghi.
One of the shining features of the Original Line is that since 3rd party companies design them, this allows for some great features, such as buttons for milk frothing and inbuilt milk frothers. Features like this aren't found in the Vertuo Line, which caters more to portion sizes.
Additionally, the coffee capsules used in the Original Line are also produced by 3rd party companies, allowing for more variety in flavors while not being that harsh on your pocket.
The features that we will be comparing are mainly design, accessibility, customization, and value for money. Hopefully, by the end of this review, you'll be able to decide which machine is best for you. So, get your coffee, settle down, and get ready!
Nespresso Creatista Plus By Sage
A combination of beautiful design, with many features, the Creatista Plus is the go to for when you're buying a new coffee machine, and not upgrading an older one.
Nespresso Lattissima Pro By Delonghi
Enjoy deliciously, bold-tasting coffee made simple with the Nespresso Lattissima Pro. Comes with advanced technology and is simple to use.
Nespresso Creatista Uno By Sage
Modern, sleek & aesthetic. The Nespresso Creatista Uno is an intuitive machine that allows you to create 8 barista-quality espresso and milk recipes at the touch of a button
Nespresso Lattissima Touch By Delonghi
Do you like a strong espresso, a cappuccino or a creamy cafe latte in the morning to start the day? In any case, you don't have to get out of bed earlier. Thanks to the large milk reservoir, you can make up to 7 cappuccinos in a row
Nespresso Lattissima Plus By Delonghi
The stainless-steel design of this coffee machine gives it an elegant and high-end touch. It seamlessly blends into any modern and contemporary aesthetic.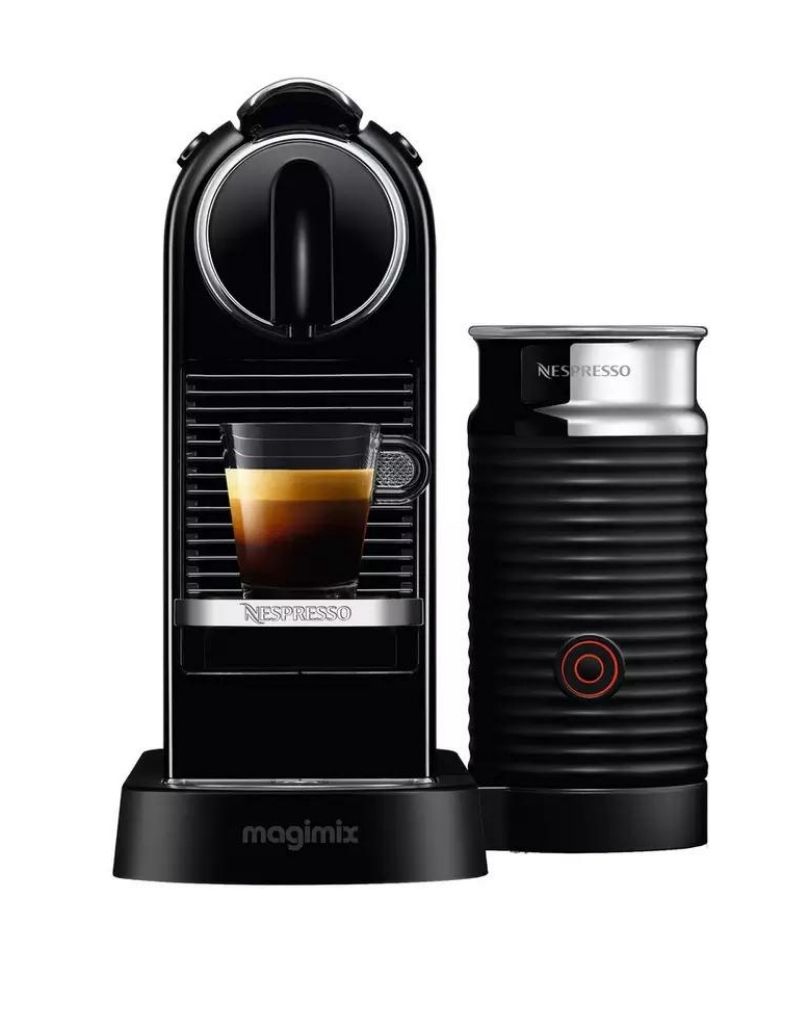 Nespresso CitiZ & Milk By Magimix
Elegant, compact & stylish design with two brewing options so you can enjoy two cup sizes Lungo (110ml) & Espresso (40ml). Comes with the Nespresso Aeroccino 3
An in-depth look at the Best Nespresso Machines
Nespresso Creatista Plus By Sage
The Nespresso Creatista Plus by Sage delivers full flavour barista-style quality coffee which heats up and is ready to go in just 3 seconds.
It's a well-designed & stylish coffee machine with a 1.5L water capacity & comes with 8 pre-programmed coffees at the touch of a button! It comes with a professional-looking, fully automatic steam wand that creates perfectly-looking lattes and cappuccinos.
Design-wise, the machine looks simply stunning. The premium stainless steel build quality is showcased in the machine's components and in no way does it give off a cheap impression. This wouldn't look out of place in a newly remodeled kitchen or a coffee bar.
The Nespresso Creatista Plus uses a 19 bar pressure pump system to extract coffee, which is better since more pressure results in a stronger taste. The inbuilt steam wand allows users to heat and froth milk by placing the milk container (provided with the device) onto the drip tray.
However, users will have to pour the milk by themselves, which is inconvenient considering you're paying such a hefty price.
The machine weighs 5.2 kilograms, which may be heavier for some users, meaning less moving it around. The water tank is detachable and has a capacity of 1.5 liters. This is a definite advantage over other Nespresso coffee machines in the same category such as the Lattisima One, which has a 1L tank.
This means fewer refills, and more coffee! The container also has a small handle, which is a well-thought-out feature, allowing for easier removal.
The capsule container disposal bin handles around 10 capsules at a time, which is a bit small in our opinion. And since they're quite wet, the bin will need cleaning at least once a week.
Another feature that was quite impressive was the pop-out cup stand in the front. The tray smoothly slides out and accommodates smaller glasses, for when you're in the mood for a ristretto or a shot of espresso.
There is no time to waste as the Nespresso Creatista Plus heats up in just 3 seconds. It has a large range of 7 coffee brew selections and a high-tech professional steam wand that offers 11 milk temperature settings and 8 texture levels to choose from. A digital display screen guides you through various coffee recipes so you can choose between Lungo, Americano, Latte, Cappuccino, Espresso, Espresso Macchiato, Flat White, Ristretto at the touch of a button. Maintaining the machine is pretty easy as the coffee machine has an assisted cleaning system and low maintenance is sure to be a plus to any household.
Nespresso Lattissima Pro By Delonghi
The Lattissima Pro is a fully automated Nespresso machine that delivers ristretto, espresso, lungo, cappuccino, and latte macchiato at the touch of a button. The digital display screen allows you to easily navigate through different brews and settings. The milk frother micro-foams creamy, velvety froth instantly, however, you cannot regulate the temperature of the milk. Make delicious Starbucks-like coffee in less than 60 seconds
Stylish, elegant, and sophisticated design makes the Nespresso Lattissima Pro a great addition to any kitchen.
This machine is very easy to clean as it includes self-cleaning & descaling features at one touch. It has a 19 Bar Pump Pressure & comes with 6 pre-programmed beverages making it easy if you are not experienced in making coffee at home. The Lattissima Pro has a 1.3L water tank capacity which can deliver up to 12 cups of espresso.
The DeLonghi Lattissima Pro delivers barista-style quality coffee. 
You can regulate the amount of milk and water to control the taste. This machine is also very easy to use. Most of the work is done with a few clicks. Maintenance can be a bit tricky, but regular cleaning cycles keep it working well. The quality of build & coffee as well as the features, are top-notch. However, the price is not affordable for everyone.
Nespresso Lattissima Touch By DeLonghi
The Lattissima Touch is a single-serve capsule coffee machine with an automatic milk frother for creamy cappuccinos. Although it has a plastic body, this machine has a sleek design. It features a touchpad that has all the controls. It has 6 buttons for different kinds of brews such as ristretto,  espresso, latte macchiato, and the milk wand can also be used to serve hot milk.
Functional yet compact, the Lattissima Touch has a plastic body and a sleek design. It features a touchpad that has all the controls. It has six buttons for different kinds of brews. It comes with a 19-bar pressure and has fast heating up time, ready in approximately 25 seconds. The water tank can hold up to 1 L and is ideal for small amounts of coffee. The Nespresso Lattissima Touch also comes with a drip tray allowing you to prevent any kind of spillage.
This machine is also very easy to use. Make professional-quality Espresso, Latte Macchiato, Cappuccino, and hot milk with a simple touch of a button. Maintenance can be a bit tricky, but regular cleaning cycles keep it working well. The auto-off function turns of the coffee machine after 9 minutes of inactive use. Built-in milk frother makes it super easy to make your favourite frothy beverages
Nespresso Lattissima Plus By DeLonghi
The Nespresso Lattissima Plus by DeLonghi has a sleek and compact design that is suitable for all spaces. It has an automated one-touch system with a powerful 19 bar pressure pump and a removable milk carafe which makes it easy to use, clean, and maintain. The Lattissima Plus includes illuminated programmable touch buttons allowing you to choose your favourite beverage including espresso, long coffee, cappuccino, latte macchiato. Used pods are automatically ejected. There are also buttons to adjust the quantities of the ingredients.
The Lattissima Plus comes with a 19 bar pressure pump which helps the capsule extraction deliver ultimate espresso crema
Create a variety of coffee beverages such as latte and cappuccino thanks to DeLonghi's Instant Froth Dispenser system. The 0.35 Milk removable carafe can be easily cleaned or placed in the fridge when not in use.
The machine heats up in 40 seconds, which is perfect when you're in a hurry.
An extremely compact coffee machine that delivers great Starbucks-like coffee at the touch of a button. The sophisticated fully automatic frother includes a foam selector and programmable milk and coffee features that are all easy to use helping you create a perfectly customized cup of coffee. Coffee aroma and temperature will impress any coffee lover. Come with an automated washing cycle function
Nespresso Creatista Uno By Sage
The Nespresso Creatista Uno is a great choice for those who like the taste of cappuccino on a regular basis. This machine has a modern look that adds glamour to your kitchen setup. Heating up only requires 3 seconds before you can start enjoying a homemade barista-style latte.
With a very simple user interface, this machine makes its usage a child's play. It does not require a lot of cleaning, thus reducing the maintenance effort.
The machine has a stainless-steel body that gives a chic appearance. The Black sesame color brings out a lux look the pops up in the kitchen. The Creatista Uno comes with an integrated steam pipe for milk frothing. This ensures that every cup of coffee is rich and velvety, with perfect milky foam. The coffee machine comes with a   1.5L water tank and a 19 Bar of pressure. The Nespresso Creatista Uno is energy efficient thanks to its auto shut of function after 10 minutes of inactivity.
With the Creatista Uno you get a fully automatic coffee machine that doesn't require a lot of effort to operate and you'll have aromatic coffee at the touch of a button within 25 seconds.
A simple touch between the 3 milk temperatures and 3 milk settings and you are ready. You can also program your machine for 4 different brewing recipes.
Nespresso Lattisima One by DeLonghi
The machine's control panel has 3 buttons, which toggle between 3 different sizes, which are Espresso (40ml), Lungo (110ml) and Latte (depends on amount of milk used)
The three buttons can be programmed to make customized coffee levels for different types of drinks. However, there are no buttons to change temperature and milk frothing level in comparison to the Creatista range by Sage.
The Lattisima One comes in two different options. Shadow Black or Porcelain White, with silver accents for the capsule door and drip tray. The Nespresso Latisimma One's shining feature is that the milk automatically pours into the cup, making it more convenient than the Creatista Range which comes with a steam wand. However, design wise, the machine seems more practical than sleek or stylish.
The Lattisima One also utilizes a 19-bar pressure system, resulting in coffee that tastes stronger, and the milk container has ridges that reduce waste and utilize all the milk in one go.
The machine weighs in at 4.17 kilograms, making it easier to move around, and comes with a 1L water tank. This may mean more refills, which might be inconvenient for some users. The heat-up time is around 25 seconds.
The drip tray can be slid to the side to make room for bigger cups, which is a helpful feature. The used capsule container has a capacity of 8 capsules, which is less than the Creatista Uno, meaning more frequent changing.
The machine has an easy to use control panel, with 6 buttons in total. 3 buttons allow for three different serving sizes, which are Ristretto (25ml), Espresso (40 ml) & Lungo (110 ml)
These buttons can be reprogrammed for different coffee strengths and the control panel is fully customizable. The automatic milk frother delivers velvety rich cream and there are two touch buttons allowing you to control the milk temperature and froth level, with three different setting for both. And the last button starts milk frothing.
Two lights on the top also indicate when it's time to descale or clean the machine, which we think is a very useful feature, considering how we can't possibly keep track of how many coffees we've drank.
The machine comes in one color option: black gloss with silver accents and matte black for the plastic parts. The gloss finish might be a dust magnet, which might be a nuisance for some users.
Nespresso CitiZ & Milk By Magimix
Nespresso CitiZ is a compact model which comes with a professional look and a unique and timeless design which adds a touch of elegance. Very easy and convenient to get your cup of coffee with the press of a button. Simply add your capsule of choice and choose between Lungo & espresso. The Nespresso CitiZ comes with a removable drip tray for recipes requiring a taller glass. The energy-saving auto-off function switches the machine off after 9 minutes of no use.
The Nespresso CitiZ by Magimix is ideal for demanding espresso enthusiasts and design lovers. Enjoy a flavourful cup of espresso every time thanks to the 19 bar high-performing barista-style pump. The fast heat-up system is ready to make you your favourite brew just after 25 seconds. The Nespresso Citiz comes with a Nespresso Aeroccino 3 integrated also available with an Aeroccino 3 which can be switched on and ready to go with a single button. The Nespresso CitiZ weighs just over 3Kg and comes with a 1L removable water tank
The high-pressure pump and perfect heat control system ensures a flavoursome experience and the coffee tastes store-bought and aromatic. The user-friendly two-program functionality delivers perfect espresso and lungo in no time. The Aeroccino 3 makes warm airy micro-foam so you can make your own latte and cappuccino at home.